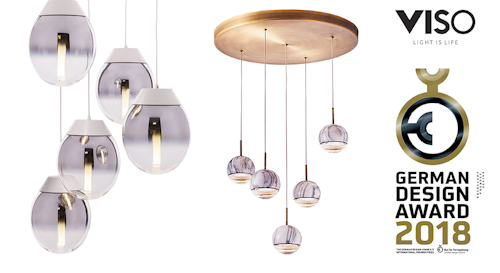 The German Design Award is one of the best-known design competitions in the world and is held in high regard well beyond professional circles. The awards honour innovative products, their manufacturers and designers, who have made pioneering contributions to the German and international design landscape.
After an extensive evaluation process involving a panel of highly esteemed international jury, the German Design Council named the Crema as one of their 2018 winners.
Speaking about the win, VISO's Managing Partner Tzetzy Naydenova said:
"We are thrilled that our Crema light has been recognized and named a winner of the German Design Awards. This win is a tribute to VISO's dedication to innovation and design and the fact that this recognition was given to one of our LED lights confirms our decision to utilize LED technology across our product range. VISO's is committed to helping our customers become more energy efficient while still offering a very stylish product and this award simply reinforces that ethos.
Crema can easily go under the radar because of its quiet nature and to have the German Design Council recognize its design strength just further validates the work that we do at VISO."
Crema combines tranquility and serenity in a simple and luminous fixture. Constructed from a semi-metalized polycarbonate body, it fades from semi-gradient to clear. The shell is home to a solid frosted glass LED diffuser that creates a welcoming glow, while being energy efficient. VISO's commitment to using LED technology is a part of our overall commitment to creating a greener environment and reducing our carbon footprint. Crema is both peaceful and strong. Available on its own, it also shines as a part of a custom cluster.
VISO's Wandering Star pendant light also received a Special Mention in the Excellent Product Design, Lighting, category. Made with solid European marble and a cast glass lens, it features metal details in a luxurious hairline bronze finish with an integrated LED. The pendant stands on its own or is available as part of a custom cluster, and is perfect for residential and commercial spaces.
About VISO Inc.
VISO is a global multidisciplinary design and manufacturing firm specializing in unique decorative light fixtures focusing on Architecture & Design with offices and facilities in Canada, Portugal and Dubai.
The company serves the hospitality, commercial, government, and residential sectors and offers an exclusive lighting collection as well as custom designs, rendering services, and total project consultation.
Led by founder Filipe Lisboa and Managing Partner, Tzetzy Naydenova, the couple have bound their efforts in design, production, management, and marketing to build a strong, reputable, and unique fashion forward lighting company.
Proudly Canadian, VISO's headquarter is located in downtown Toronto. The company designs, manufactures, assembles and inspects all fixtures and custom lighting in its state-of-the-art production facilities.
About the German Design Awards
The German Design Award is the top international prize of the German Design Council. Its goal: to discover, present and honour unique design trends. Therefore, every year, top-quality entries from product and communication design are rewarded, all of which are in their own way ground-breaking in the international design landscape. Launched in 2012, the German Design Award is one of the most well- respected design competitions in the world and is held in high regard well beyond professional circles.
~Light is Life~
To download hi-res images of the Crema, click here.
To download hi-res images of the Wandering Star, click here.
To download product imagery with German Design Awards logo, click here.
Get Social. Follow VISO on the following social networks:
Facebook: VISOInc
Twitter: @VisoLight
Instagram: @Visolight
Pinterest: VisoLight
For media inquiries or more information, please contact:


Barbara Yang, Marketing and Communications Manager at barbara@visoinc.com or by telephone at +1.416.461.8476 ext. 117 or +416.996.5696.
VISO Inc. Global Headquarters
388 Carlaw Avenue, Studio 207, Toronto, Ontario, M4M 2T4, Canada