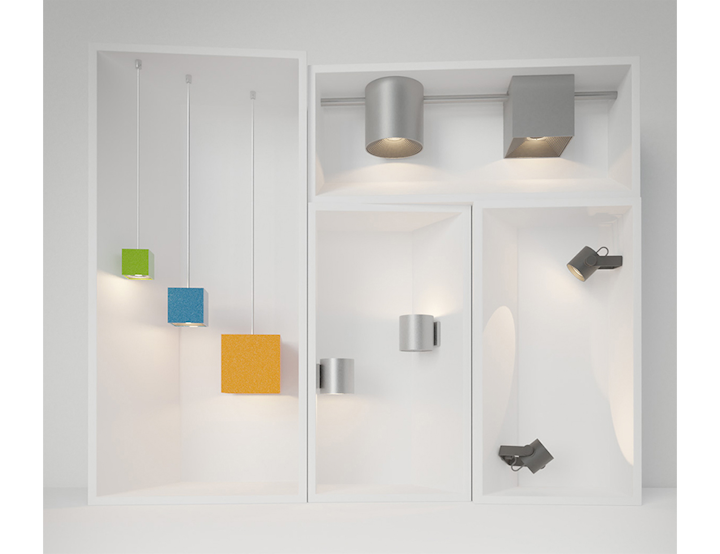 v2 Lighting Group, an innovator in modern, specification-grade LED lighting, has announced NOVA: a comprehensive product family of compact, geometrically proportioned lighting fixtures, designed with high efficiency LED technology. NOVA's seamless mounting and versatile optics provide specifiers an array of lighting solutions for endless applications.
Addressing the architectural trend towards smaller fixtures with higher lumen output, the NOVA product family includes 2.5", 3.5" and 6", geometric round and square shapes with output up to 2,000 lumens. NOVA includes surface mount, pendant, wall sconce, and directional yoke fixtures in 30 standard finishes and dimming to 1%. The NOVA product family provides high-quality lighting without compromise.
"In creating NOVA, we wanted to combine our clean, modern designs with what architects have been asking for. The result is a beautiful, small, multidimensional lighting solution" explained Chris Varrin, CEO of v2 Lighting Group.
The entire NOVA product family is engineered around high-efficiency LEDs and optics to deliver substantial lumens where they are needed. With optics from 10 to 94 degrees, and asymmetric wall wash, double wall wash, and spread lenses, NOVA provides lighting designers with extraordinary control to cover spaces or add accent to any application. The NOVA fixture is finished with a stepped baffle for a finished appearance. The stepped baffle can be fitted with a honeycomb louver or diffuser to reduce glare or soften the field of light.
Detailed specifications, Revit files and photometric data can be found on v2 Lighting Group's website.http://v2lightinggroup.com/product-family/nova/
v2's luminaires are available through v2 Lighting Group's extensive North American representative network. See our website for a representative in your area: http://www.v2lightinggroup.com/rep-finder
About v2 Lighting Group, Inc.
v2 Lighting Group, located in San Jose, California, designs and manufactures modern, interior and exterior LED luminaires. Our innovative cylinders, pendants, sconces and linear fixtures are built with precision engineering and uncompromised quality. Our standard fixtures are available in a multitude of sizes and finishes, v2 works with designers to create unique configurations and deliver extraordinary lighting solutions.
For more information, please visit www.v2LightingGroup.com
Media Contact:
Laarni Cayetano
v2 Lighting Group, Inc.
+1 707 383 4600 ext. 107
laarni@v2LightingGroup.com