NanoLumens, award-winning creators of uniquely compelling interactive LED visualization solutions, today announced that Hudson Group, one of the largest travel retailers in North America, has deployed a diverse set of dazzling digital displays at one of America's busiest airports aimed at energizing the large store and driving sales and promotions, as well as adding to the customer experience.
The feature pieces at the World Duty Free store in the McNamara Terminal at Detroit Metropolitan Airport include a circular NanoLumens Nixel Series™ LED display and a large touchscreen interactive station.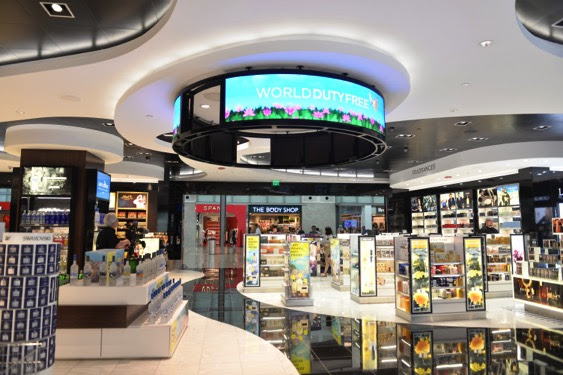 "The incorporation of a NanoLumens Nixel Series LED display into this installation really demonstrates our ability to design a compelling and engaging visualization solution for any installation environment," said NanoLumens Dana Michaelis, Regional Sales Director. "We are proud to have played a role, together with ComQi and Pearl Media, to bring this solution to life."
Combining three separate displays to create a truly innovative ring, the 3mm Nixel SeriesTM fine-pitch LED halo display by Nanolumens, suspended like a digital chandelier from the store's ceiling, makes shoppers aware of brands and promotions, no matter where they are in the duty-free store.
The 42-inch wall-mounted touch-display designed to deliver the same, smooth familiar experience as smartphones and tablets – invites travelers to engage in content such as product information, live departures and arrivals information, weather reports and highly visual curated news and sports summaries.
There are also 55-inch digital displays around the store being used as digital posters, scheduled to run multiple promotions.
Running on ComQi's powerful digital signage content management system, EnGage, content is delivered with "right time, right place" targeting to individual displays. Utilizing EnGage's "Store Message Domination" the content on the circular halo display and digital posters is synchronized Hion scheduled intervals to create visually dominant in-store messaging.
"We love working with the folks at Hudson, their vision is paving the way to advancing shopper engagement in the ever-changing world of airports and other travel hubs," stated Stuart Armstrong, Group President at ComQi. "Combine that with Pearl Media's exceptional creative, ComQi had the perfect environment to deliver a highly successful program."
About ComQi
ComQi is a global leader providing a cloud-based Digital Signage & Shopper Engagement Technology that influences customers in-store through digital touch-points like in-store media, mobile, touchscreens, IoT & social media. Through ComQi's EnGage CMS, , ComQi enhances the shopper journey thus helping our clients drive traffic, increase sales & encourage brand loyalty. For more information visit - http://comqi.com/
About Pearl Media
Pearl Media is an award-winning Out-of-Home and experiential marketing agency, headquartered in northern New Jersey. For more than a decade, Pearl has worked with the world's leading brands and owners of the most sought after real estate to change how people experience the world outside their homes. For more information on Pearl Media visit www.pearlmedia.com.
About NanoLumens
Headquartered in Atlanta, Georgia, NanoLumens partners with clients to create uniquely compelling, interactive LED visualization solutions that take the guess work out of owning a display network. As the fastest growing visualization company in the US, our experiential LED displays exceed the imaginations of global clients in retail, transportation, corporate, gaming, higher education, sports and arenas, and houses of worship. Through world-class proprietary technology, NanoLumens displays are ultra-thin and lightweight, energy efficient and available in any size, shape or curvature. NanoLumens solutions are proudly designed and assembled in the United States of America and come backed by an industry-leading six-year warranty. For more information, visit www.nanolumens.com.