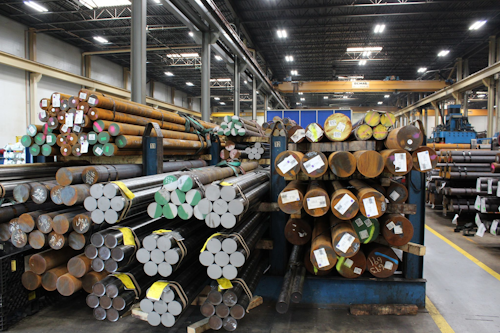 Round Ground Metals will save more than $67,000 annually on utility costs, thanks to a major lighting overhaul done by Sustainable Lighting Solutions. The energy savings generated by switching to LED fixtures will also allow the metal manufacturer to recoup its capital investment by the end of the year.
The savings acquired from expending 625,341 fewer kWh, an amount greater than $67,000 per year, prompted Sustainable Lighting Solutions to recognize Round Ground Metals with its Environmental Stewardship Award.
"We want to have the safest environment for our employees today and generations to come," says Mirek Krynski, Round Ground Metals, Inc. Maintenance Supervisor. "It's amazing that upgrading to LED throughout two of our buildings will have such an environmental impact. We're grateful to Sustainable Lighting Solutions for presenting the solution and recognizing us for its impact."
Round Ground Metals is a 28-year-old family owned company steel manufacturing company that makes "round bars rounder" and has a rich history of delivering a quality product at a fair market price.
"Our machines operate on average 20 hours a day, and require a lot of electricity," Krynski says. "This project improved the safety and productivity of our machinists, brightened overall morale throughout the company, and made the world a little greener."
Round Ground metals, Inc. chose Sustainable Lighting Solutions for the project that included more than 200 fixtures and sensors installed throughout it 130,000 square feet of machine shops and warehouse space.
Mike Sweitzer, founder and President of Sustainable Lighting Solutions, says that small changes go a long way, and the energy savings acquired through lighting improvements have greater impact in environments with heavy machinery and other electricity guzzlers.
"When a company is running 20/5, the lights are pretty much always on," Sweitzer says. "We offer solutions that respect employee movement, concentrate the light in places that enhance safety, and minimize the time that lights are on unnecessarily. The end product delivers significant utility and maintenance savings."
Round Ground Metal's annual environmental impact from its switch to energy-efficient lighting:
Consume 625,341 fewer kWh
Emit 380.3 fewer tons of Carbon Dioxide
And as a result:
70 more acres of trees planted
52,000 fewer gallons of gas consumed
Krynski says that other companies bid on the project, but Sustainable Lighting Solutions' willingness to help people "see in order to believe" is what set it apart.
"Sustainable Lighting Solutions installed a sample fixture and right away people wanted them. Seeing really is believing and when they hung those fixtures people could see what type of change would happen," says Krynski.
Sustainable Lighting Solutions secured a ComEd incentive that covered a third of the project. RGM is forecasted to annually save more than $67,000 in electricity costs alone.
"The new lighting is saving maintenance a lot of headaches," Krynski says, but more important employees can see better and the new lighting has improved morale. "They appreciate the investment."
The project took several weeks to complete, with installation primarily occurring on the weekends; to minimize disruption to the machine shop and warehouse. Nearly 250 fixtures were installed, including LED High Bays; LED wall packs; LED pole fixtures; and motion sensors. Most of the installation occurred within the buildings, but Sustainable Lighting Solutions also installed exterior fixtures.
"Employees come and go early in the morning and late at night, and improving the lighting outside was really appreciated," Krynski says. "The women were especially grateful, because during the winter when it's really dark and cold they felt safer, and didn't fear possibly slipping on the ice when they were headed to their cars."
Project at A Glance:
Incentive: $30,880
Annual Utility Savings: $67,349
Payback: One year
Impact: Safer workplace, Employee Morale improved
Round Ground Metals specializes in the production of precision tolerance, round bars from hot roll stock and stocks several thousand tons of material in various stainless, carbon, and alloy grades. Manufacturing practices include material selection, precision straightening, turning, burnish/polishing, centerless grinding, cutting, heat treating, facing, end-stamping, packaging, testing, and logistics. For more information, visit: http://www.rgmetals.com/.
About Sustainable Lighting Solutions
Sustainable Lighting Solutions (SLS) offers modern lighting solutions that transform a company's workplace, warehouse, or campus. SLS' solutions immediately reduce operating costs, decrease electricity utilization, and on average provide a two-year payback with lower utility bills. SLS tracks all available incentives and to date has captured more than $5 million in incentives and rebates for its customers. For more information, visit www.SLSNA.com