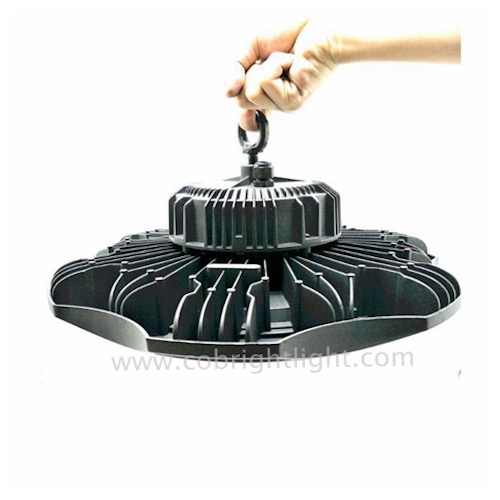 COBRIGHT Explored Patented UFO LED High Bay Light on its Commercial Lighting List
In August of 2017, COBRIGHT has released its newseries outdoor lighting product---patented UFO LED High Bay Fixtures. It hasgreat performance and good quality.
The story of UFO LED High Bay Light was born bya requirement of a European custom which has cooperated with us for a long timemore than 5years. Two years ago, our this client has recommend a request to usthat he wants a UFO high bay light which is not heavier but should be differentfrom the existing market types. It needs a high lumen which can reach over120-130lm/w and for 5years warranty, what he will use is for a big warehouselighting, which has a lot of competitor, he doesn't want to have any carelessmistakes for it.
At the beginning there are a lot drawing forthe outlook was rejected, and in final, one of our engineer's flower UFO hasattracted the eyes of our clients. By the speaking of the lamp structure, thelamp surface has electrostatic spray anti-aging process, self-clean and highcorrosion resistance and the lamp body is made of aluminum alloy material. Thewhole design is compacted in order to save the shipping cost. Regarding thelamp lighting efficiency, because it has adopted the high lumen PHILIPS 3030LED, it can reach 130lm/w. It has largely improved the light illumination ofthe lamp. And moreover, we adopt the MEANWELL driver to make the whole lamp tobe guaranteed within 5years. It has greatly increase the saving of the laborcost and maintenance cost.
The lamp powers are available in 100W / 150W/ 200W/240W.
Of course it can be customized the proper poweraccording to the specific project demands.
With the improvement of the technology, the UFOLED high bay light is also led high bay is being the best choice of thetraditional industrial lighting area. This high bay light is a best choice for applicationas industry, workshop, warehouse, stadium, waiting room, railway stations, gasstations, airports, shopping malls, supermarkets, etc.
Welcome to contact with us for more details andspecification for WIN-WIN cooperation.
Cobrighthas 6 years experience in manufacturing and exporting LED lighting, such as LEDstreet light, LED flood light, LED high bay light, LED shoebox parking lotlight, LED tube light, LED bulbs, LED panels and so on. We now exported to over80 countries all over the world.
+86 15338802916
sales@cobrightlight.com