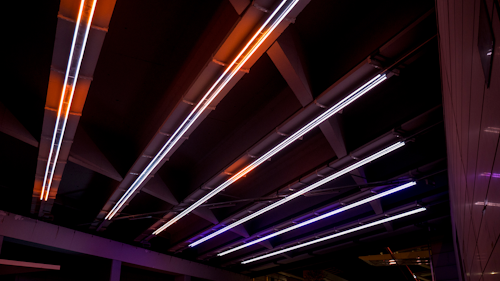 VISIBLE, a Slovenian creative technology company has completed an interactive lighting installation in Paris Expo Porte de Versailles. They worked with Seulsoleil, a lighting design agency based in Paris, who was responsible for lighting design.
VISIBLE creates multi-media installations and objects for events and architecture. In June 2016 they were contracted to work on an interactive lighting installation in Paris Expo Porte de Versailles. The installation is positioned below a bridge on which the main Parisian ring road (Boulevard Périphérique) crosses Paris Expo. The traffic is monitored with 2 dedicated video cameras, which stream their video feeds to a LightAct media server. LightAct is continuously analyzing the speed and density of the traffic and based on those it generates real-time patterns which are then mapped to the luminaires.
Mitja Prelovšek, CEO of VISIBLE, has said: "As part of the project we developed a self-learning tracking algorithm that detects the type, position and velocity of vehicles on the road. This information is then used to generate real-time lighting patterns that were designed by Seulsoleil and VISIBLE. The project was completed on time and on-budget which was only made possible by using LightAct, our own control system for interactive architecture."
VISIBLE believes this project illustrates the extent of intelligence and interactivity that can be achieved in contemporary lighting installations. They feel very privileged to have had the opportunity to be at the forefront of this movement yet again.
Video:
Video can be watched on the project page here.
Credits: