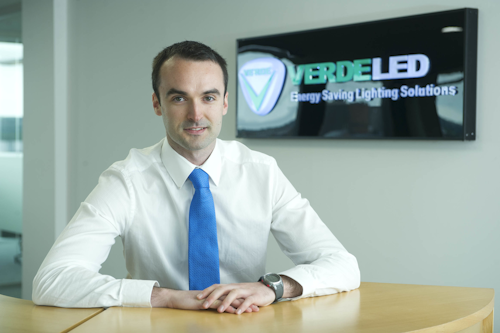 Cork headquartered, VERDE LED, a leading Irish manufacturer of commercial energy saving LED lighting solutions has announced details of a contract that sees the company expand into the Scandinavian market through a partnership with Malux.
The distribution contract, expected to be worth up to €6 million over the next three years, will see VERDE LED provide Malux with a range of industrial lighting options.
In the summer of 2016 VERDE LED completed several industrial facilities and ice hockey stadia in Finland with Malux. After discussions in Frankfurt at the world's largest lighting fair, Light & Build in 2016, Malux partnered with VERDE LED following a full facility and operations audit based on the company's technical expertise, high quality products, and suite of support services.
A market leader and one of the largest commercial LED Lighting manufacturers and suppliers in Europe, VERDE LED offers a wide range of lighting solutions using premium LED chip technology primarily for commercial purposes. The products offer huge energy usage savings, more effective lighting (colour & direction can be tailored), and a much longer life cycle, leading to significant cost savings (up to 80%), and short payback periods.
With over 40 years' experience in the Scandinavian market, Malux provides specialist lighting such as emergency lighting systems, and vandal safe and underwater lighting, as well as explosion proof equipment for industrial purpose, and communication products such as antennas for mobile phones and headsets for communication radio. Malux works with customers from pharmaceutical to process industries, to the building industry and the public sector.
Speaking about the partnership with Malux and expansion to Scandinavia, John Keohane, CEO of VERDE LED said "At VERDE LED we are continually looking to develop strategic alliances with good international distributors, and have been looking to expand in the Scandinavian market with the right partner. In Malux we now have a partner that we can trust with distribution of our products, and one which has the infrastructure in place to facilitate growth in line with our company's ambitious growth plans, and we look forward to exciting times working together."
Commenting on the distribution contract Jens Kononen from Malux said "The foundation of our business is offering a wide product range from globally well-known, reputable suppliers, our professional and service-minded personnel, and our ability to offer solutions that will improve and maintain our customers' competitiveness. The partnership with VERDE LED was a natural fit for us when we assessed the superior product range of the highest technical specifications offered by VERDE LED, which we can now provide our customers with."
VERDE LED is now an established force within the LED industry both in Ireland and abroad. The company will be seven years in operation in 2017; and while the sector is relatively new, it is quickly maturing as the market now clearly understands the benefits of LED lighting. The company has offices in Ireland, UK and France, and it distributes in Australia as well as Scandinavia through distributors; with approximately 40% of the company turnover in exports.
Recent clients include Abbvie, Honeywell, Intel, Delphi Automotive, Maynooth University, and the HSE. In 2015 the company also won a contract to look after the lighting in 150 Topaz outlets over an 18 month period.
For further information on VERDE LED visit www.verdeled.com.