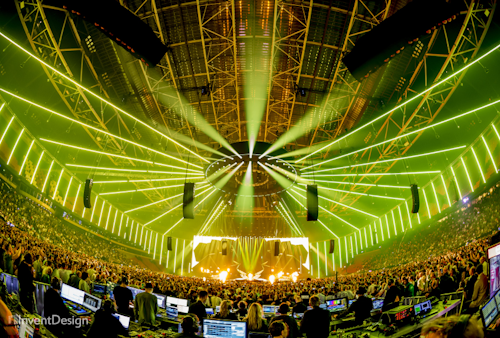 Armin van Buuren turned the tables on 12 and 13 May during his show 'The Best of Armin Only' in the Johan Cruijff Arena. For the second time in 6 months, InventDesign was the preferred party to cater the LEDs for yet another spectacular lightshow. Last October, the company catered the lights for the Amsterdam Music Festival, which also took place in the Johan Cruijff Arena.
The special lightdesign, which was designed by 250K for the show, didn't stop with an impressive stage. InventDesign provided the full length and width of the Johan Cruijff Arena with vertical and horizontal pendant LED strips, with the shortest vertical variations being at least 8 meters long. InventDesign is one of the few European companies that can handle pixel driven LED's of this size. But the real challenge was to create and test the entire light installation within the short timeframe that was given to them. This does not just include the preparation of the M-series pixel strips, and custom making the control boxes, but also coming up with a safe, constructive solution to hang the LED strips vertically above the public.
Because the Arena is so big, and the lights had to cover almost the entire Arena, we decided on decentralized control boxes. For this reason, InventDesign assembled 129 smaller control boxes – each equipped with a 500W/24V alimentation and DiGidot C4 Show controller-, with which the 808 M-series pixel strips and 318 meter RGB LED strip could be controlled more easily. Thanks to the great co-operation during the Amsterdam Music Festival, Alda Events entrusted the company again for this project. InventDesign did what they promised and managed to create a cleverly constructed, and trustworthy installation, with the result of a gigantic light spectacle. Stefan Verhoef, general director of InventDesign, said: "We would have never been able to realize this great project without light designers André Beekmans and Marc Heinz, and of course our technical partner 4Light. Therefore, I would like to thank them and our client Alda Events for yet again a great collaboration!".
About InventDesign
InventDesign was established in 2007 by director Stefan Verhoef. With excessive experience in innovative LED projects, driving techniques, and a team of the best specialists, InventDesign is a leading player in the word of creative LED's. The flexible working approach in producing tailor made projects, both large and small, makes the company a driving partner for both temporary installations for festivals and theaters, or fixed installations for retail, recreation, offices, and interior designers. We also offer a wide range of LED's and LED related products of the highest quality.