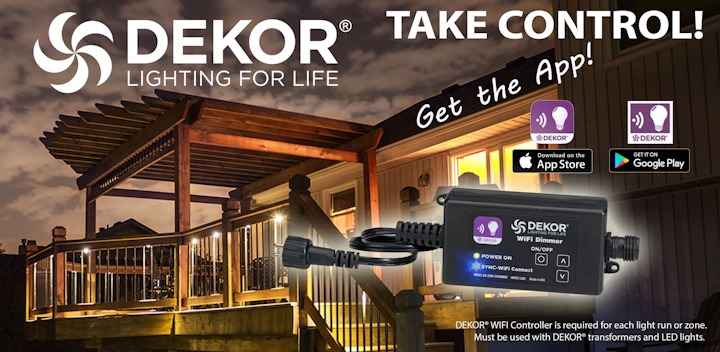 DEKOR® Lighting announces the next step in user-controlled lighting with the EZ WIFI CONTROLLER with WIFI REMOTE APP, now available for Android.
Using the inventive controller and app duo, you can now master your lighting from your Android smartphone. Never before has it been easier to brighten up your home the way you like. With brightness and dimming controls, timer scheduling capabilities, a repeat function, and more, perfectly customized DEKOR® lighting is right at your fingertips.
The EZ WIFI CONTROLLER works by connecting to our advanced DEKOR® WIFI REMOTE APP, available for download on Android and Apple phones. After downloading from Google Play or the Apple Store, a simple setup is all it takes to control and adjust your lighting right on the app. Using your home's wifi network, the app signals to the controller to change your lights according to your preference, letting you modify your lighting to fit your home instantaneously.
There's multiple ways to find the lighting thats right for you on the DEKOR® app. Once opened, you can easily slide the brightness levels up and down to achieve ideal luminosity in your home. Plus, you can schedule your lighting to turn on and off at a specific time using the On Time and Off Time controls. Using this simple function, you can setup your perfect lighting schedule quickly and stress-free. Additionally, you can set your schedule to repeat daily, letting you can set it and forget it for all the days to come.
What makes the EZ WIFI CONTROLLER with WIFI REMOTE APP so innovative is its ability to connect to multiple zones of lighting throughout your home. With additional EZ Wifi Controllers, you can effortlessly sync your lighting to each respective system, allowing you to designate individual zones or spaces in your home. Using this zone programming, you can connect multiple lighting groups to your DEKOR® WIFI REMOTE APP, letting you customize all of your lighting on one platform.
The EZ WIFI CONTROLLER with WIFI REMOTE APP is available online at DEKOR®'s website today. With this newest advancement in DEKOR® technology, the future of lighting is brighter than ever.
For interviews or more information on the EZ WIFI CONTROLLER with WIFI REMOTE APP, visit dekorlighting.com or call Matt Merki, marketing director, at 303-991-2285, or email Merki at matt@dekorlighting.com.