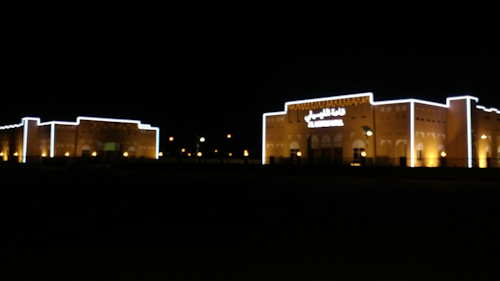 Inspired from the heritage legacy, Dubai Municipality's Al Lisaili hall is facility for organizing wedding functions and all other events, providing main amenities for nuptials and ceremonies to be a jubilant memorable event. The hall has a capacity of 750 invitees in addition of service areas for visitors, kitchen utility, electric, sound rooms, and a bride room. The two halls in Al Lisaili are located in two neighboring buildings built for women and men separately in a total area of 3800 square meters with 165 parking slots in each. Each hall has also an area for conducting external activities associated with the bridal functions such as Ayala and wedding tent. The hall interiors and exteriors are designed to be in line with the heritage of the town in sync with the traditional values and modern development.
Shanil Basheer Project Manager, LED World enthusiastically says "When we were approached by the department to provide façade lighting for the hall, we wanted to give the place a diverse glitzy look in the area, almost like a twinkling effect with sleek and colorful uplighting. Most favored were the stretchy LED RGB neon flex as they are extremely bendable and can even be arranged over corners and rounded edges. We stringed up lumiflex color changing ribbons for along the top edges of the wedding halls, to create a spectacular border lace glow. Lumiflex products excel in the ability to integrate into different architectural environments. Lumiflex Neon are flexible in the application from Indoor Cove lighting to Outdoor applications, with commercial grade waterproof using cutting-edge powerful, low energy LED's." Mr. Valentin Boyanov General Manager, LWS Lighting Solutions comments "The enormous luminance of the Lumiflex LEDs enables scintillating lighting beyond the decorative range. These ritzy flexible neonflex boast a flat, low profile shape which allows you to elegantly hang or lace them anywhere with desired cuts making it more compliant lighting tool. Because of their intensity and customizability, the LED ribbons are used for an assortment of applications. They can be controlled through wireless dimming systems and DMX controllers."
The Group Chief Executive, Althaf Ali recapitulates that lighting for wedding halls needs to be impactful as apt illumination can make everything look better, from the floral decorations, to bridal gowns to your guests. The right kind of illumination will accentuate finest details you have spent on, be it the ornaments or the dishes. Good wedding lighting can also help your photographer capture the most stunning details and moments of the big day — from snaps that showcase the mood of your wedding to stills of the gorgeous intimate details to romantic portraits of the couple lovingly silhouetted against flickering lights. Lighting is like the jewelry of a space—just the right lights will make your reception unforgettable, certainly embellishing the overall décor. Lighting is an integrated art of built-in decoration and contributes to enhancing mood, adding vivacity in the ambience and oomph to the event.
For more information visit us on www.ledworld.ae
Alvina Clara, PR Executive, LED World LLC.