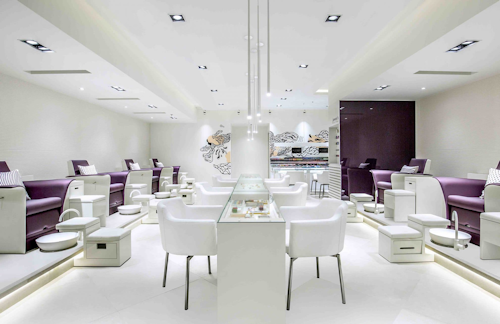 Soft lighting, palliative music, pastel colored walls and fine ventilated rooms are the impeccable insides for Spa and beauty rooms. LED WORLD Group Executive Officer Althaf Ali feels that when it comes to spa and wellness centers, Illumination must be indirect and on rheostats. We must ensure the lighting must be subtle, yet vey calming triggering ones senses preferably recessed warm white with dimmable options to minimize glare especially in treatments rooms where customers spend maximum time. Infact special consideration must be taken to guarantee the illumination creates an ambiance that is peacefully soothing, meditatively relaxing and instantaneously rejuvenating; insync with the promise of what spa treatments deliver. However, to add a tinge of grandeur an assortment of decorative lights can be fastened at corridors, patios, entry ways and foyers. Decorative lighting fixtures like chandeliers and large pendant fixtures can help adorn beauty centers. They offer unique igniting features that serve as architectural enrichments, contributing to overall ambient lighting levels. Finally, in select spaces, natural lighting should be allowed to fill common spaces where color rendition is important, such as makeup or hair revivifying areas.
LWP Project Department Zonal Manager Abid Ahamed comments "House of ENSPA situated at Jumeirah, Dubai compelled us to deliver tranquil lighting results for their SPA house. To suffice their requirements for accent as well as task lighting we presented Lumibright Griffin single and double head light series, Lumibright Strip lights, panel lights, grain series spotlights and track lights. For that dash of adornment, we installed Eglo decorative pendants for a lavish contemporary setting. We feel contented that we were able to rise up to their picturesque view for amalgamating lighting into their interior theme to create a pleasant experience for their clients."
Visit us www.ledworldme.com
Alvina Clara , PR Executive , Inspired Holding Group.
Established in 2013 by Shabana Karim, one of UAE's most entrepreneurial businesswomen, House of Enspa is a renowned wellness centre in UAE beauty industry operating 11 spas and salons comprising 20,000 sq. ft. retail and operating space. The award-winning House of Enspa constitute more than 500 staff, each dedicated to offering a flawless, consistent and holistic customer experience; a true differentiator in a competitive market.
Brands -Established in 2002, The Nail Spa was the region's first spa solely for hands and feet, and has now expanded to offer an extensive range of complementary spa and grooming treatments. Marquee, a premium chain of hair salons that delivers red carpet ready hair in a vibrant and inspirational setting, launched in 2013. A design house for nails, artbar is a concept created for genuine beauty aficionados. Founded by Sehr Karim-Jaffer, Creative Director of TNS, it is a true innovation lab, approaching nail design as an extension of style and a platform for self-expression. Espai is the group's dedicated marketing, distribution, training and franchising arm for upmarket retail beauty products, and was founded in 2009.