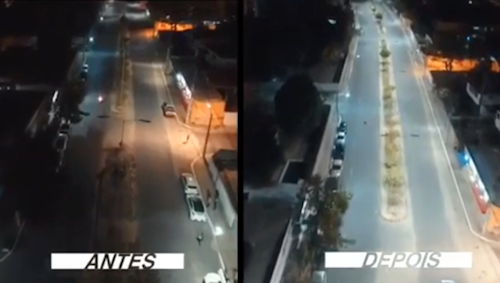 Dongguan, China. — Oct 17, 2018 — Rongwen Group, in the last months of August and September, Rongwen, with its partners STYA and Ilumitech, has been chosen to implement high-efficiency LED luminaires for 3 cities in Brazil.
In Osasco, State of São Paulo, where Rongwen and its partners specialized in the management of public lighting have already installed 3,000 Rongwen LED luminaires, expands its partnership and in the coming months will finalize the installation of another 2,400 Rongwen luminaires totaling more than 5 thousand units only in this City, saving millions Kwh of energy for the city.
Jaboatão dos Guararapes, State of Pernambuco, has started the first phase installation, and is expecting to have a total of 7,000 units in the field in the following months. "The infrastructure upgrade not only creates a huge economic impact with its energy saving, it also significantly improves city's roadway lighting environment and addresses road safety issues, such as crimes and accidents. Our citizens feel safer to go out on the street." Said Rubem Duarte, Director of Public Lighting of Jaboatão.
In the city of Ipero, in the interior of the state of São Paulo, with a little more than 30 thousand inhabitants, Rongwen and STYA finalized the installation of power grid, poles and LED luminaires with remote control system, for the first fully controlled road in Brazil. "We are reaping the fruits of more than 3 years of presentations, testing, certification and investment in the Brazilian market, always defending the high quality and performance of Rongwen products as the best way to benefit the Brazilian Municipalities and their population", says Jose VAZQUEZ, CEO of STYA.
"Cities here in Brazil are eager to establish a greener, safer and smarter social environment for their citizens. The networks we help laying out here is proven by many projects globally, and can easily extend to many other smart city applications, including various sensors to control and monitor infrastructure, smart parking, illegal parking, smart cameras, and smart metering, etc." explains Eva Wang, Director of International Business Development at Rongwen.
Only in the Brazilian market, STYA and Rongwen, in partnership with large local investing groups and public lighting service companies, will total until the end of this year the delivery of almost 15,000 units of LED luminaires. And based on this experience, the partnership aims to reach 200,000 units over the next 24 months.
"Together with our partners, Rongwen is committed to delivering solutions that drive innovation, create sustainable environment and improve overall social operations for cities." Said Eva Wang.
About Rongwen
Rongwen is one of the world's leading smart city solution provider and an ESCO company serving more than 50 cities across the globe with its efficient and cottage-edge technology innovations. Rongwen is an early mover of streetlight system integration. It helps cities save more than 150Million KWh electricity every year with its advanced solutions.
Rongwen has vast and comprehensive experience in smart street lighting and smart city projects, offering unique project expertise including planning, financing, system integration, and system operation. It has helped many cities in achieving more control and more efficiency plans, like Singapore, Batam, Bandung, Osasco, Paraparas, Guangzhou, Shenhen, Dongguan and many more.
More about Rongwenat http://www.rongwenest.com