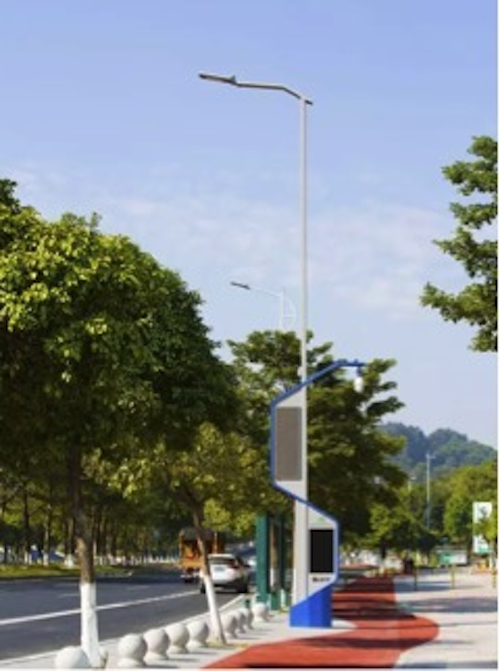 The southern Chinese city of Guangzhou now has more than 10,000 smart streetlights installed including a number of smart columns featuring wi-fi hotspots and other high-tech applications.
The move is part of its plan to create a Smart City which will significantly help reduce energy consumption and provide services to residents and the city itself.
The project uses controllable streetlights based on RF Mesh network and smart poles as a carrier to build a smart city management platform.
By maximizing its usability, compatibility and scalability, and utilizing a reliable network to sense, collect and analyze key data, it helps make the city more efficient and smart and improves city management on infrastructure, public service and safety.
The smart LED streetlights and multi-function smart poles, are installed in the Guangzhou Economic Development Zone by Guangdong Rongwen.
Six smart columns feature electric vehicle charging points while four columns also include an environmental sensor, crowd camera, LED advertisement panels, WIFI hotspot, PM2.5 pollution sensor, SOS button, public service information platform, tree sensor, sewer cover sensor, and water level monitor. There are more than 10,000 smart LED streetlights deployed.
The RF Mesh networked LED streetlight sits on top of the pole, with a camera below to monitor crowd levels. Below that is the LED screen (display/panel) to publish advertisements and important news. The bottom LED touch screen offers Internet access, community services and travel information. The very bottom part is equipped with a visual communication system to allow GPS location and emergency services.
The decorative lights are equipped with motion sensor and infrared distance monitor to detect people's movement and turn the light up or down accordingly.
Additional services in the deployment include a sewer cover sensor and tree sensor. The sewer cover sensor can detect any movement in the cover and transmit the information back to the smart city management platform. To prevent trees being from being stolen or moved, a tree sensor records any movement of more than 10 degrees and sends the information back to inform the operational personnel.
Jiaxin Yang, Deputy Director of CEPA of Guangzhou Economic Zone, said: "The networked LED streetlights will help the city save up to 70% energy. This innovative deployment has created a newer, smarter, greener, safer image of Guangzhou, which is in line with the development goal of Guangzhou city."
"The showcase leverages the existing streetlight network to enable additional services for the city and its citizens, and realizes the automation and intelligence of city management and services.
"Rongwen has been a leading company in providing ESCO services in street-lighting for municipalities. The innovative smart city platform is a leap in technology by leveraging cutting edge communication technologies to meet the needs of cities and citizens". "The scalability and sustainability of the system allows cities to grow their network with millions of devices in the future," said Zhixiong Lee, General Manager of Guangdong Rongwen.
"This deployment also shows the "Internet +" development strategy of Guangzhou by utilizing IoT, Cloud computing, big data and GIS technologies to perfect city lighting infrastructure, public information display, community security, and other community services management."
Guangdong Rongwen is a leading ESCO company focusing on smart street lighting and smart city industries. It delivers more than 350,000 controllable LED streetlights to many cities under Energy Management Contracting business model by utilizing cutting edge network communication technologies.