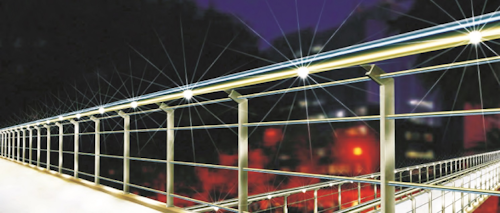 With clever engineering and design, the LED Railing Module is an innovative versatile system offering unique lighting with unrivalled uniformity and photometric performance. Eliminating the need to light an entire area, the integrated Railing System helps to increase safety & security - at minimal cost- thanks to its low energy consumption.
With stainless steel body & water-proof IP67, it is well-suited for interior /exterior staircase, atrium surrounds stairs, balconies, viewing galleries, ramp ways, pedestrian bridges and walkways.
One of the main features of the handrail lights installed in public areas is for safety and vandal resistance. Illuminated handrail systems also provide decorative lighting when incorporated into street-furniture, and urban art installations by enhancing aesthetics and increasing visibility.
Powerful, yet small and unobtrusive each CREE LED module provide an oval shaped beam with a sharp cut-off designed to obtain non-overbearing illumination with a high degree of uniformity, minimal glare, nil light spill or wasted light. The rail lights can be installed in new handrail or retrofitted into existing handrail.
For More Details Kindly visit:
http://lumibright.co.uk/product/lumipro/Handrail/Hand%20Rail/HRL_LP.27001/5150