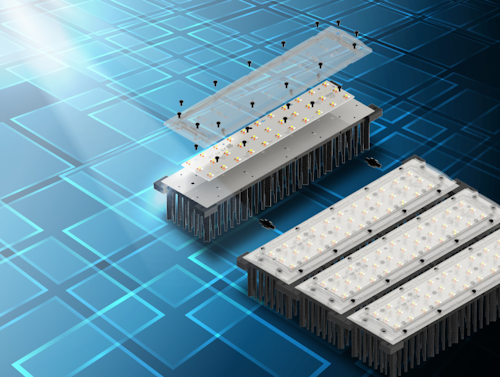 MechaTronix, one of the global market leaders in LED cooling, is broadcasting a clear message towards the horticulture market. "Although there are numerous opinions on the ideal spectrums and mixes of wavelengths, the world of horticulture top lighting is going to change drastically over the coming years, according Koen Vangorp, CEO of MechaTronix."
The offering in various LED packages with specific wave lengths is widening, but also the latest COBs with a clear horticulture spectrum are finding their way to the market. MechaTronix has a bright vision on its future in the horticultural market. "Over a time span of 6 months we have launched 3 new top light horticulture LED cooler platforms together with our eco-partners: simple, straight forward and all based on standard off-the-shelf components. You can call it the Lego of horticulture LED lighting."
These horticulture top light units dubbed CoolBlock® SQ 2x2MX, LX 2x6 and HC 3x11 consist out of the MechaTronix CoolBlock® LED pin fin cooler (sizes 10x10cm, 8x19cm and 10x34cm), a waterproof lens from Ledil on top, and a standard LED engine board available in a broad range of spectrums. LED engine wise a number of horticulture boards are already off-the-shelf available, with the Lumileds Luxeon Sunplus, the Osram Oslon horti packages or the Cree XP-G/XP-E. Ledil developed the lenses with the Strada 2x2MX, Strada 2x6 IP and Florence-3R-IP 3x11. The wide variety in beam angles gives an extra dimension on the use of these horti LED engines, with a superb light dispersion but also an easier coverage of the needed PPFD in the glass houses. All together these complete LED engine assemblies become the most compact stand-alone waterproof horticulture engines in the market.
A single CoolBlock® SQ or LX generates roughly 100µmol in the PAR spectrum, while the taller CoolBlock® HC goes up to 300µmol passive cooled. The building blocks can be endless combined in both the width as the length direction, what makes the system versatile towards each variation in horti applications.
MechaTronix went the extra step by creating the CoolBeam® integration kits for the 2x2MX LED engines. Four varieties of kits have been launched, combining from 3 units all the way up to 12 units, or from 225µmol/s all the way up to 1000µmol/s.
For more information about the horticulture led platforms from MechaTronix, please contact led@mechatronix-asia.com
ABOUT MECHATRONIX
MechaTronix was founded as a creative designer & manufacturer of high end mechanical plastic & metal parts. With its Asia-based headquarters in Kaohsiung Taiwan, MechaTronix became a powerhouse at designing and manufacturing heat sinks and thermal solutions for OEM and LED lighting applications. Strategic partnerships with major LED manufacturers and sharing our thermal knowledge with their luminaire designers are our core missions. Simple passive cooling, advanced heat pipe technology or active cooling solutions? MechaTronix offers of the shelf and tailored solutions to its worldwide professional customer base. For more information about the company, please visit : www.mechatronix-asia.com