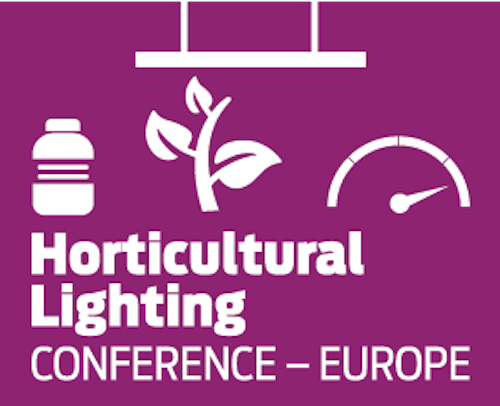 PennWell Corporation announced today the launch of the Horticultural Lighting Conference Europe to be held High Tech Campus in Eindhoven, The Netherlands on Tuesday May 23, 2017.
Expanding on the success of the Horticultural Lighting Conference USA held in October 2016, the European edition will address key topics including light and crops fundamentals, understanding LED versus traditional grow lighting technology, metrics and methods, how to use tunable LEDs to manipulate crop production, new research findings, vertical farming techniques, and more.
"A revolution is happening in horticulture. It's a seismic shift that is set to change fundamentally how we grow plants – and it's all down to lighting. Thanks to the unique properties of LED lighting and major advances in our understanding of plants, we now have exciting possibilities to tune the light to boost yield, customize the plant characteristics and maintain plant health," said Ray Molony, program director for the conference. "LED lighting looks set to make a major contribution to meeting the world's increasing need for local, sustainable food production and this conference will provide an important platform for information exchange and networking."
With LED lighting, it is now possible to manipulate the wavelength, pulse duration and spectral output to modify the structural and chemical characteristics of plants, enabling growers to extract greater yields from crop production. Each species has its own unique light 'recipe' which delivers exactly the right light at the right time. Additionally, light can produce suppressive effects on disease-causing viruses, while maintaining plant health and productivity.
"There is a huge amount of interest across the horticulture industry with LEDs. This is not just because of energy efficiency, but because of the potential to manipulate plants. The main delay in application of the technology is convincing growers that LED is an economically sensible move," said Dr. Phillip Davis of the UK horticulture research facility Stockbridge Technology Centre and presenter at the Horticultural Lighting Conference Europe.
There are special discounted rates for growers and students at the conference. View the full program and register at http://horticulturelightingconference.com/europe/.
About Revo Media
Revo Media Partners Limited, a media company, produces the leading Lux Review lighting brand, including a portfolio of news and information channels and events. In addition to Lighting magazine, the brand Includes Lux Review, a publication and online offering that shares knowledge globally and LuxLive, a lighting exhibition that brings together specifiers and end-users to showcase products and services. The company was founded in 2010 and is based in London, United Kingdom. In 2014, Revo Media Partners Limited began operating as a subsidiary of PennWell Corporation.
About PennWell Corporation
PennWell Corporation is a privately held and highly diversified business-to-business media and information company that provides quality content and integrated marketing solutions for the following industries: Oil and gas, electric power generation and delivery, hydropower, renewable energy, water and wastewater treatment, waste management, electronics, semiconductor manufacturing, optoelectronics, fiber-optics, aerospace and avionics, LEDs and lighting, fire and emergency services, public safety, and dental. PennWell publishes over 130 print and online magazines and newsletters, conducts 60 conferences and exhibitions on six continents, and has an extensive offering of books, maps, websites, research and database services. In addition to PennWell's headquarters in Tulsa, Oklahoma, the Company has major offices in Nashua, New Hampshire; London, England; Houston, Texas; San Diego and Mountain View, California; Fairlawn, New Jersey; Moscow, Russia; and Hong Kong, China. For additional information about PennWell Corporation, visit www.pennwell.com.
Contact:
Wendy Lissau, Marketing Director
PennWell Corporation
Email: wlissau@pennwell.com
Phone: 918.831.9793