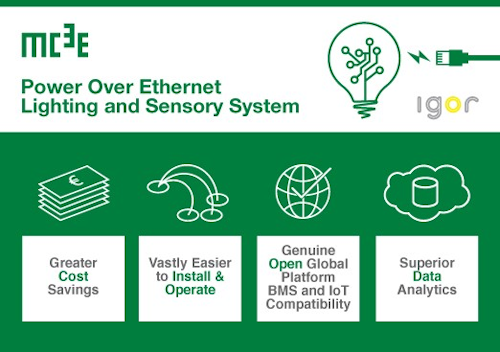 McCool Controls & Engineering Ltd. announced a partnership with Igor Inc. to deliver Igor's Power-over-Ethernet Lighting, Control, and Data Harvesting Solution to the Irish intelligent building management market.
Established in 1991, McCool Controls & Engineering is a family business designed to be a building management and automation system company. It is an industry-leading controls company that seeks to continually innovate in new breakthroughs in the management of heating, ventilation, air conditioning, and metering of services in structures of all types. McCool specializes in all types of commercial buildings, such as office, commercial, industrial, medical, educational, or retail buildings.
Over the past year, McCool Controls has been transforming its offerings to provide Internet of Things (IoT) Smart Building solutions with the latest generation IoT supervisory software, control products, mechanical items, and now, with Igor, an IoT lighting solution. The solution can be provided as a stand-alone product, or reach its full potential as part of McCool's full IoT Smart Building Solution.
Smart Building Market Set to Grow
Business leaders today require real-time information more than ever to make smart decisions. However, information alone is not enough – leaders need actionable data that supports rapid, sound decision making. This is especially true with real estate, which is typically the second largest expenditure for a business, only second to payroll. Igor, Inc. is a U.S.-based high growth technology firm focused on consolidating building automation/control systems which enable aggregating and analyzing building data thus transforming it into actionable building intelligence. The result is reduced expenses, enhanced worker efficiency, elevated safety and security, and superior stewardship of our valuable energy resources.
Igor's manufacturer-agnostic PoE nodes can control any LED fixture, bring sensory technology to all corners of a building, reduce energy costs, and reduce installation costs. Its open protocol communication features include BACnet and API integration, which fully open the system to Building Services or IT Enterprise solutions.
PoE is also perfectly suited for both new builds and legacy installations of any age. When supplied with McCool Controls IoT Supervisory Software, IoT Sensors, and Building Management System, PoE lighting can be a core part of a fully intelligent Smart Building Solution. Together, McCool and Igor offer a cloud-based analytics platform to manage, learn, and control all connected devices.
"Ultimately, the Igor PoE Lighting and digital ceiling is a perfect complement to our portfolio," said Eoin McCool, the General Manager at McCool Controls & Engineering Ltd, "it will be a great value-added solution."
Steve L'Heureux, CEO of Igor, Inc., agreed, "We believe McCool Controls' history and expertise in building controls is the perfect complement to Igor's PoE solution." L'Heureux continued, "PoE is not just about lights anymore - it's about the fully integrated smart building. By adopting our PoE solution, it's clear that the leadership at McCool's is looking to the IoT future in building management systems and are seeking to provide a unique and future-proof solution for their customers."
To Contact:
McCool Controls & Engineering Ltd.
(Tel.) 00353-1-8550542
(Tel.) 1-877-588-2650
(Corp. Email) info@igor-tech.com
Read the original press release
here
.