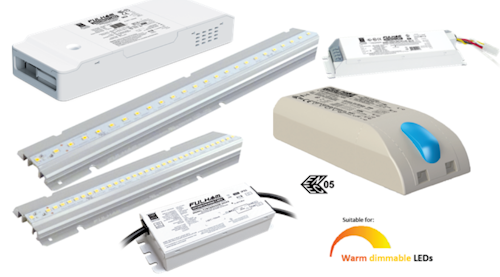 At this year's LuxLive 2017, Fulham, one of the world's leading suppliers of lighting components and electronics, will be launching a number of new LED lighting products for OEMs, distributors and lighting professionals.
On display on Stand C16 will be:
HotSpot Plus, all-in-one emergency LED driver
The HotSpot Constant Power programmable LED emergency driver
The LumoSeries 25W Universal Mains Dimming LED driver
A range of linear high output LED modules
A range of IP65 outdoor rated WorkHorse programmable LED drivers
Fulham's HotSpot Plus is a European spec all-in-one luminaire driver / auto-diagnostics, self-test emergency driver / and Battery – Emergency LED solution. HotSpot Plus is one single-case unit with a simple programable output, 45W Dimmable LED Driver, integrated with a 1W to 60W programmable output Emergency Driver including a 12-hour recharge, replaceable Lithium Ion Phosphate battery.
This all-in-solution eliminates typical wiring and installation nightmares usually associated with emergency lighting circuits. The extremely compact unit includes, loop in/loop out connectors for mains input along with the Emergency status LED indicator & test switch. It carries a full five year warranty, inclusive of the battery, is fully ENEC certified and is available from stock now.
The new HotSpot Constant Power programmable LED emergency driver provides programmable, constant power emergency output for existing LED modules. Ideal for OEMs, the driver automatically detects the capacity of the attached battery to provide its maximum constant output for a minimum of 90 minutes. Programmable output capability enables longer emergency run times when required. Four different batteries are available to meet varying run time and form factor requirements. The driver has advanced features including self diagnostics and detailed data logging.
Fulham's newly launched LED 25W Universal Mains Dimmable Driver is expected to be very popular as it is designed to be compatible with most dimmers from a wide range of dimming controls manufacturers. The driver has been cleverly designed to auto-detect and work reliably with triac, leading edge and trailing edge dimmers, potentiometers and 0-10V dimming controls. It is fully software controlled to analyse the behaviour of all dimmers and is able to dim as low as 12mA. The driver allows ultra-smooth dimming and linear dimming supporting Dim to Warm LEDs. It has a very wide output voltage and current, making it ideally suited for COB arrays and LED strips.
The new range of Linear High Output DC modules from Fulham provide efficient, easy to install modules for high-lumen linear applications. Featuring the latest high-efficacy high-output LEDs, delivering up to 198 lumens per watt, the modules are a cost competitive alternative to traditional linear lamps. The LED boards are mounted in an aluminium extrusion to eliminate the need for additional heat sinking. Three power levels, multiple colour temperatures and easy slide-on diffusers make them a simple, flexible solution for luminaire manufacturers or LED retrofit projects.
Also new at LuxLive is Fulham's series of Programmable Outdoor Drivers. Built to IP65 specification for outdoor use, these reliable drivers are ideal for high power applications. With the options of DALI or Wireless dimming, the outdoor drivers have a wide programmable current range in 1mA increments. Available in versions from 40W to 200W, these Programmable Outdoor Drivers are compatible with Fulham's SmartSet programming platform and TPSB-100 handheld controller.
Further information on Fulham's full range of products is available on +31 72 572 3000 by emailing europesales@fulham.com or visiting the company's website at www.fulham.com