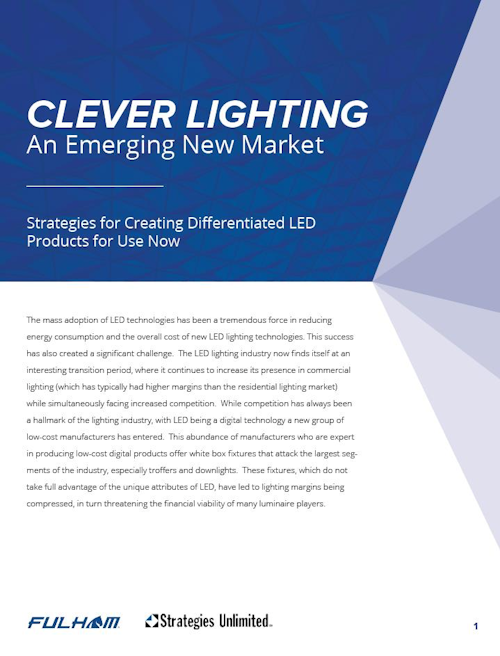 Fulham, the lighting components and electronics specialists, has just published a new white paper entitled 'Clever Lighting - An Emerging New Market'.
The new white paper looks at strategies for creating differentiated new LED products in a world market where there has been a universal transition to LED for both commercial and residential lighting.
With LED being a digital technology, some very large digital manufacturers are entering the market with low-cost products so presenting the biggest challenge to date. This challenge with 'smart lighting' product offerings is leading manufacturers to really focus on a new LED lighting market segment dubbed 'Clever Lighting'.
Clever Lighting is not a feature or future technology, but a way to provide value to customers on the path towards fully smart lighting.
Fulham argues that Clever Lighting is about using the special attributes of LED light to solve real problems for customers. The new white paper looks at some of the leading features of Clever Lighting. These include more options for light source control, such as programmable dimming curves and tunable output drivers; and more intelligent systems maintenance, such as monitoring the temperature of lighting systems during operation, superior flicker control, and lower start-up power requirements so reducing wiring and installation costs. Other Clever Lighting features discussed include driver diagnostics to track individual driver's actual operating conditions; standardised control interfaces, adding flexibility and future upgradeability – such systems providing additional energy saving while gathering important data for facility or system optimisation.
This new white paper on Clever Lighting makes for an interesting read with Fulham contending that survival for many in the LED industry demands that their thinking and product offerings move from commodity to Clever.
The white paper on Clever Lighting from Fulham is available to be downloaded now at
https://www.fulham.com/clever-lighting/
Further information on Fulham's full range of products is available on +31 72 572 3000 by emailing europesales@fulham.com or visiting the company's website at www.fulham.com