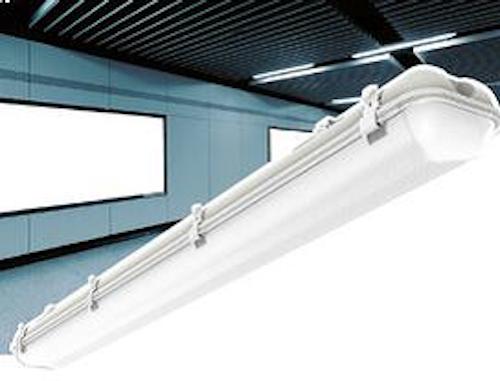 Aura Light has introduced the Zurro to its family of lighting products, a compact and durable universal luminaire designed for demanding applications.
The Zurro is ideal for car parks, warehouses and industrial areas that require sealed luminaires of IP65 class and is made with high quality components to ensure reliability during its lifespan. It can also be installed in commercial kitchens, sports facility changing rooms, general warehousing and plant rooms.
The 'chip on board' LEDs are very energy efficient, which together with high quality components reduces its lifetime cost, and lowers carbon footprint. Like many energy efficient lighting solutions from Aura Light, it is covered by a five-year guarantee.
The Aura Zurro is energy efficient up to 118 lm/W with more than 8000 lumens output. It is classed as low maintenance, features breathable gland technology and the body is made from impact resistant polycarbonate. It can be surface mounted or installed on catenary wire and is available as either a single or twin fitting.
There are eight Aura Zurro luminaires in the range, these being 4000K single and 5000K twin fittings in 25W, 30W, 52W and 65W versions. The luminaires can also be specified as DALI dimmable and with integral emergency lighting.
Further information is available from Aura Light on 01952 250800 by emailing: simon.taylor@aura-light.co.uk or by visiting the company's website at www.aura-light.co.uk