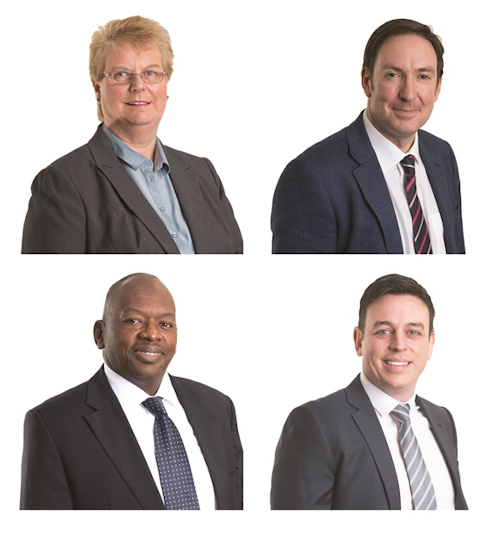 Venture Lighting Europe has announced some new strategic changes to its management structure with a number of newly appointed directors.
The company has appointed three new directors, Paul Mettham, Yvonne Savage and Chris Alexander and promoted Phil Croker to senior management in order to reinforce Venture Lighting Europe's business success and company growth.
Over the last eighteen months, Venture has successfully moved into the quality LED luminaire market whilst maintaining its established position in HID technology. The new management changes are designed to build on this success and increase innovation and product development in LED and drive more sales for a greater market share.
Richard Morris, Managing Director of Venture Lighting Europe commented, "We are delighted to welcome the new members, Chris Alexander, Yvonne Savage and Paul Mettham to the board and we are confident that we are now well placed to take Venture to the next level of growth".
Product and Marketing Director, Paul Mettham, has worked in the lighting industry for 20 years, with particular involvement in Mechanical Engineering, Product Design/Management and Marketing sectors. Paul gained a BA Honours degree in Industrial Design and Marketing and before entering the lighting industry designed components for both TVR and Jaguar. Paul joined Venture Lighting in early 2016 and became Product and Marketing Director in December 2016.
In alignment with Venture Lighting's new strategic direction, Paul's duties include managing product design and development, mechanical engineering, technical duties and all aspects involved within the marketing of each new product prior to its release into the market place.
Yvonne Savage joins Venture Lighting as its newly appointed Sales Director for the UK and Europe, with a background of 28 years in the lighting industry across consumer, distribution, OEM and specification sectors. As Sales Director, Yvonne with her sales team will strengthen the company's business relationships, together with working and supporting its channel partners, governing bodies and respected members of EDA and LIA.
Yvonne was previously National Sales Director at GE Lighting and has gained a number of management course leadership awards for coaching and mentoring sales teams, with an excellent reputation for her strong working relationship with those in the lighting sector. Yvonne also brings a wealth of knowledge having attained a Green Belt in Six Sigma training.
After six years with the company, Phil Croker has been promoted to Commercial Manager UK & European Sales at Venture Lighting. He has 14 years' experience in the electrical industry and is currently working towards a Master of Business Administration (MBA). In his new role at Venture, Phil is involved in business development and marketing strategy interfacing with the company's sales and marketing teams and the external market.
Phil coordinates the short and long-term interests of all areas within the business while also taking control of sales analysis and business development with customers, suppliers and key accounts. Phil is responsible for liaising with senior management to evaluate all products and strategies, and he also coaches employees where necessary regarding sales tools and presentation techniques.
As a Fellow of the Association of Chartered Certified Accountants (ACCA), Chris Alexander joined Venture Lighting as Financial Director in January 2016. Chris previously held various account roles within the private and public sector, including Bunzl, JCdecaux, Camden Council and Hammersmith and Fulham Council.
As Financial Director, Chris manages all financial aspects of Venture Lighting's company strategy, by managing and leading a team through month end, year end, annual budgeting and forecasting. Working alongside Venture's Managing Director, Richard Morris, Chris is also responsible for operations management, where he oversees warehouse logistics, including inventory and receiving and despatching of goods.
Further information on Venture Lighting Europe is available from the company on 01923-692600, by emailing: info@venturelighting.co.uk or by visiting the company's website at www.venturelightingeurope.com