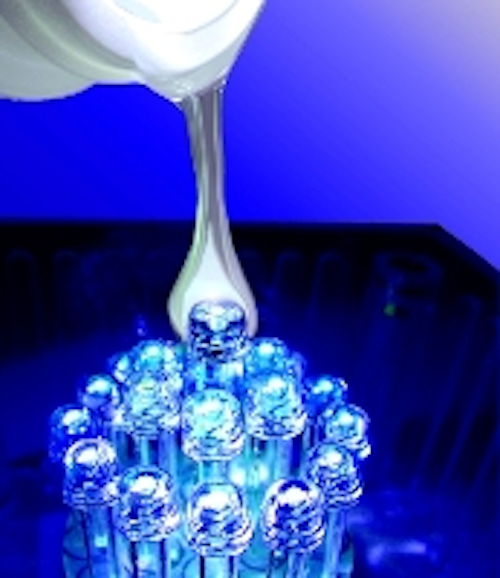 From high performance LED chip packaging encapsulants and potting materials to thermal management solutions and adhesives for bonding lighting assemblies, Techsil supply a variety of materials to provide environmental protection, extend service life and improved light performance. Product chemistries include Silicones, Polyurethanes, Epoxies, Greases and Pressure Sensitive Tapes.
Techsil work in close consultation with engineers to ensure the correct performance specification is achieved by building on our years of expertise with these concepts. Techsil's materials are used in many LED applications such as LED light engines, linear modules, luminaires, housings, architectural lighting, security and flood lighting, outdoor LEDs, oceanic LEDs, panel mounted LEDs and PCB mountings.
LED Encapsulants, LED Potting and Protection
The need for encapsulants for LEDs is rising dramatically and the requirements are high, with engineers looking for products offering brilliant clarity, high brightness, along with excellent thermal characteristics. Techsil provide a wide range of materials for LED assembly that provide protection from harsh environmental factors such as moisture ingress, vibration, scratches and thermal shock. Designed to have, in particular, an excellent refractive index, all materials have great UV stability. Included in this range are:
- RTV27844 - a crystal clear, low viscosity, 2-part silicone which cures at room temperature to a high strength rubber.
- PU22985 NEW!! - a 2-part water clear potting polyurethane which cures to form a tough 85 Shore A material with good abrasion and hydrolysis resistance and thermal conductivity of 0.3 W/mK.
- MG 8322 NEW!! - a clear potting epoxy which provides a tough resilient finish to environmental ingress.
Thermal Management Adhesives, Sealants, Greases and Tapes for LEDs



Techsil has a full suite of thermal management materials for the LED industry including high performance adhesives, greases and pressure sensitive adhesive tapes for bonding heat sinks and providing an excellent thermal path. Examples include:
- RTV1084G - a 1-part grey silicone with high thermal conductivity of 2.3 W/mK which cures to a tough but pliable rubber.
- TIM11021 G - a 1-part, grey, non-setting, silicone paste with thermal conductivity of 2.1 W/mK
- TIM 202331 Tape NEW!! - a white, heat transfer tape for bonding heat sinks to LED strips and units. Thermal conductivity 2W/mK. (Other tapes available with up to 3W/mK.)
Download Techsil's LED Materials Brochure – Solutions for LED Assembly
As an authorised distributor for Momentive Performance Materials Techsil also supply Momentive's comprehensive range of silicone material solutions that are excellent candidates to address a wide array of LED applications, including glob top encapsulants, thermal gels, lens materials, die attach silicones and dot matrix potting materials.
For technical assistance on selecting the right material for your application or for a sample contact technical@techsil.co.uk