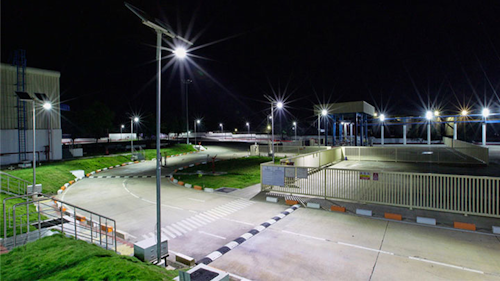 Lumisolar Outdoor Luminaires built to last from Lumibright :
Lumisolar Luminaires are built to last with self-contained solar outdoor LEDs for building safer, more eco-friendly communities.
Lumisolar bollards, street lights, wall lamps and un-ground lights are simple to install, taking only 15 minutes per fixture.
BENEFITS:
Solar lighting systems connect to a truly "infinite" power source – the sun. The lights turn on when the sun goes down.
The sheer nature of solar power makes it a near perfect solution for any outdoor lighting application from parking lots to street lights. Outdoor lighting is typically required only during the night, which leaves the daytime for obtaining solar energy that can then be converted to electrical power, used for powering light sources overnight when most needed.
* Wire-free lighting.
* Durable maintenance free illumination.
* Considerable savings on time & money.
* Natural light complements projects aesthetics.
APPLICATIONS:
They are well suited for illuminating
Pedestrian precinct, pathways, parks, gardens, parking lots and playgrounds.
http://lumibright.co.uk/product/lumioutdoor/Street/Solarin/LB9452/1655
http://lumibright.co.uk/product/lumioutdoor/Street/Throm/LB9460/4591
http://lumibright.co.uk/product/lumioutdoor/Street/Vigor/LB9456/4586
http://lumibright.co.uk/product/lumioutdoor/Inground/Stellar/LB1283/5190
http://lumibright.co.uk/product/lumioutdoor/Wall/General%20S/LB4607/4543
http://lumibright.co.uk/product/lumioutdoor/Bollard/Drums/LB1828/4580
http://lumibright.co.uk/product/lumioutdoor/Bollard/Eidel/LB1832/4583
http://lumibright.co.uk/product/lumioutdoor/Bollard/Force/LB1820/4571
http://lumibright.co.uk/product/lumioutdoor/Bollard/Baltas/LB1825/4578
http://lumibright.co.uk/product/lumioutdoor/Bollard/Henly/LB1826/4579
http://lumibright.co.uk/product/lumioutdoor/Bollard/Kent/LB1831/4582
http://lumibright.co.uk/product/lumioutdoor/Bollard/Knock/LB1822/4573
http://lumibright.co.uk/product/lumioutdoor/Bollard/Wigan/LB1823/4575