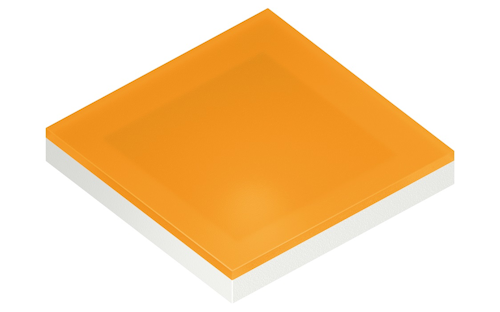 Osram Opto Semiconductors is leading the miniaturization trend with the introduction of its smallest LED yet in the Ceramos family. Ceramos C is ideal for flash applications on smartphones or tablets, producing perfect illumination with every snap. Ceramos C expands the existing portfolio of products that feature a unique CSP, specifically developed by Osram Opto Semiconductors.

The new Ceramos generation of products no longer has the conventional ceramic package and bond wiring of its predecessors. Instead, it utilizes a CSP platform specially designed to ensure that the entire chip surface is uniformly illuminated with virtually no loss of light. In addition, Ceramos C has a smaller footprint, measuring 1.4 mm x 1.4 mm x 0.21 mm. It is three times thinner than the previous product, but generates the same brightness, giving designers greater freedom.
Ceramos C is suitable for use in smartphones or tablets that require a compact LED for the front camera, as well as the main flash and flashlight functions. With a typical color rendering index greater than 80, the LED offers natural colors no matter where it is used. Ceramos C has a luminous flux of 260 lm and a color temperature of 4,500 K.

"The new Ceramos C makes it easier for beginners to take great pictures and selfies. The excellent illumination produces fabulous photo results," said Russell Willner, Product Marketing Manager at Osram Opto Semiconductors. "In spite of its small size, Ceramos C is extremely powerful and a real bonus for end customers. Our Ceramos C works perfectly with any industrial design because it's small enough to be easily incorporated in the thinnest smartphones and tablets."