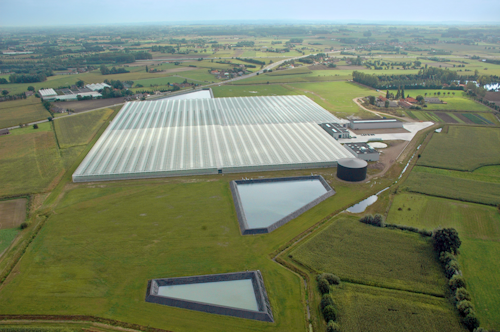 Plessey, a leading developer of award-winning LED technologies and manufacturer of solid-state lighting products, announces that TomatoMasters will install Plessey's new Hyperion 1750 LED top-light in a new greenhouse development measuring 54.560 m²
The new Hyperion 1750 is the latest LED grow light in the Hyperion product range and has a maximum light performance output of 1750 micromole/s, equivalent to a 1000W SON-T. All Hyperion grow lights come in a range of standard and tailor made spectrums, with a host of features and benefits designed to give a higher commercial return to growers. In 2017 Plessey introduced the Hyperion range with the Hyperion 1000, delivering a light output of 1000 micromole/s, equivalent to a 600W SON-T.
Flemish producer TomatoMasters was started by Julien Vlaemynck in 1966. Sons Herman, Dirk and Johan now run the business along with grandson Tom. The Vlaemyncks grow a variety of high quality tomatoes in 10.7 Ha of greenhouses at their farm in Deinze. TomatoMasters sell locally and internationally via Veiling Hoogstraten under the Flandria label and are in negotiation with a major supermarket which will require an increase in capacity of 6 Ha. As a result, TomatoMasters are installing an additional 5.4 Ha greenhouse at the Deinze site, lit with Plessey LEDs, which will satisfy this year-round demand.
The Vlaemynck family are committed to the most sustainable and environmentally friendly production. The new greenhouse, being built by Havecon, will use diffused glass, 100% LED light and 100% rainwater from large existing basins where 8,000m² is available per Ha. In an innovative and unique partnership, existing co-generation onsite supplies a local fish farm with heat and power in exchange for nutrient rich fish water.
To maximise year round production, quality, environmental efficiency and long-term return on investment, TomatoMasters will install 100% Plessey Hyperion 1750 LED top lighting. Each Hyperion LED is equivalent to a 1000w SON-T lamp in terms of light output but with a spectrum more efficiently tuned to activate photosynthesis in tomato plants. The high output of Hyperion LEDs means far fewer units are required than other LED systems to provide the 200+ micromole/s/m² required and because they are installed on the trellis, the shading is very low. The low radiant heat of the Hyperion allows for a more flexible lighting strategy when temperatures in the greenhouse are high and heating pipes installed in the top level of the greenhouse will be used to replace the radiant heat normally provided by HPS lighting.
Commenting on his decision to choose Plessey's new Hyperion LED grow light system, TomatoMaster's head grower, Tom Vlaemynck said: "We were made aware of Plessey by our consultants at Delphy and have worked with them on the lighting strategy for the project from the start. We were impressed by the long-life features of the Hyperion system and the simple, efficient design of the lights. This is a big investment for our business and we wanted a technologically advanced partner that would provide a long-term lighting solution."
Jonathan Barton, Director of Grow Lighting at Plessey, commented: "We are committed to lowering the lifetime costs of LED horticultural lighting and have designed the Hyperion system with that focus in mind, from the quality and efficiency of the light itself to the practical costs of installing and maintaining the lights for years of productive use. Working with companies like TomatoMasters, who have a clear, long-term vision and are willing to innovate is what Hyperion is all about - offering growers a real alternative and a commercially viable LED lighting solution."
Visit Plessey at GreenTech in Amsterdam, June 12-14. Hall 12 stand 109
About Plessey
Plessey is a leading expert in the development and licensing of technologies that are revolutionising the solid-state lighting sector. With its in-depth understanding and breadth of patents relating to GaN-on- Silicon, the company has established itself as a valued IP partner to OEMs producing the next generation of photonics solutions. Plessey has been successfully licensing its pioneering sensor technology solutions within the healthcare and automotive sectors for many years.
For further information and datasheets, please visit www.plesseysemiconductors.com or
email sales@plesseysemi.com. You can also follow Plessey on Twitter, Facebook and LinkedIn.
Contact for editorial information
Nayl D'Souza, Account Director, Publitek
Tel: +44 (0)20 3813 6423
Email: nayl.dsouza@publitek.com
Contact for Plessey company information
Sabine Poppelmann, Communications & Customer Care Manager, Plessey
E-mail: sabine.poppelmann@plesseysemi.com
Contact for Plessey sales information
Jonathan Barton, Business Development Director, Plessey
E-mail: jonathan.barton@plesseysemi.com