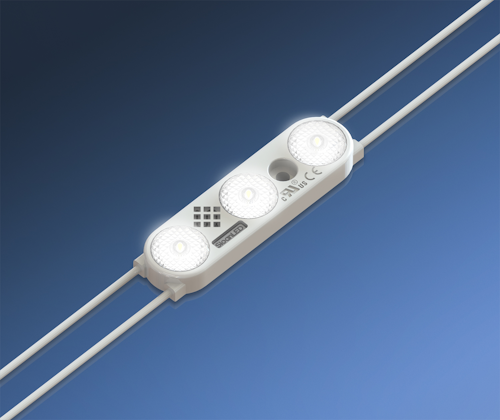 Delivering a dazzling 180 lumens per module, a substantial upgrade from standard Prism's 124 lumens, the intense new SloanLED Prism HO module is the brightest lighting option in its class. Designed primarily for use in lightboxes, and suitable for large built-up letter applications, row spacing can now be increased by up to 40%, meaning fewer modules are needed to create super-bright and uniform illumination. Indeed, Prism HO is so bright, Applelec is warning customers to use sunglasses during installation testing!
Ian Drinkwater, Applelec managing director, said: 'Yet another new launch from SloanLED shows this brand is constantly pushing through improvements and advances to their LED systems. Prism HO is ideal for high impact lightboxes and flex-faces where the increased row spacing will save installation time and component costs as less modules are required.'
Featuring top-tier LED chips and the same, revolutionary micro prism technology as standard Prism and Prism Mini modules, SloanLED Prism High Output has been designed to stand out in systems with an optimal depth of 125mm to 228mm. With benefits including consistent brightness and uniformity, energy cost reductions, maintenance cost savings, easy installation, faster ROI and a five year warranty, the new module is a bright addition to the Prism family.
Andy Armitage, head of signage sales at Applelec, said: 'The launch of Prism High Output again demonstrates that LED signage modules are becoming increasingly application specific. Applelec's range of LED solutions from SloanLED can shape dramatic time, energy and cost savings whilst maximising impact and brightness across a wide range of applications. Our field sales team are on the road every week and ready to support customers in achieving the very best illumination possible for their individual signage and display projects.'
Applelec became an official UK distributor for SloanLED in January and the company recently announced it will be participating in the first Sign Link Live exhibition this October. This year's SloanLED Prism Mini and latest Prism HO launches will be on display at the show.