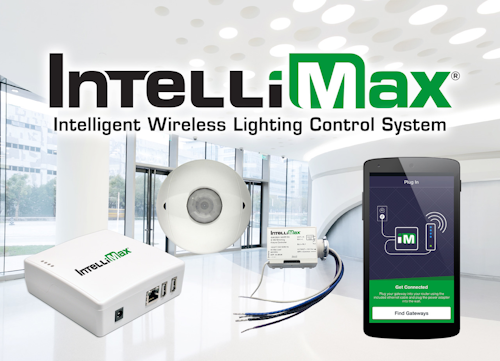 MaxLite today announces the launch of IntelliMax™, an intelligent wireless lighting control system that integrates seamlessly with MaxLite LED luminaires and building systems to enable facilities to save energy and customize light using popular controls such as occupancy sensing, dimming and daylight harvesting. IntelliMax is ideal for new construction and retrofit applications, from single rooms to full buildings, where wiring would be costly or complex. Powered by Cortet™ wireless technology, IntelliMax is easily merged with HVAC, shade control and other building systems for scalable energy savings.
The control system is comprised of IntelliMax-enabled LED luminaires, plus IntelliMax devices, such as gateways, relays and sensors, and commissioning software. The system's ZigBee®-based protocol enables expansion using IntelliMax-certified components from other manufacturers. At launch, Intellimax will be compatible with selected Leviton® wall switches, dimmers, daylight harvesting sensors and occupancy sensors. Simple to set up, commission and use, IntelliMax can operate independently, or connect to the cloud for robust data collection and reporting.
"The IntelliMax system is a cohesive and cost-effective way to upgrade facilities to LED lighting solutions that comply with state energy efficiency requirements and reduce operating costs," said Vice President of Product Management and Engineering Greg Galluccio. "Combining IntelliMax with the quality and longevity of MaxLite's LED luminaires offers building owners a solution that will provide years of energy and maintenance cost savings."
MaxLite will provide complimentary lighting layouts and commissioning for IntelliMax control systems. IntelliMax systems and MaxLite LED luminaires are backed by warranty assurance and lifetime technical support. For more information, go to MaxLite.com or call 1-800-555-5629.
About MaxLite (www.maxlite.com)
MaxLite has been committed to providing energy-efficient lighting products since 1993. One of the first movers into LED technology in the industry, MaxLite offers an extensive line of quality, certified indoor and outdoor LED lamps and luminaires. A five-time recipient of the ENERGY STAR Partner of the Year Award for its industry leadership, MaxLite continues to be at the forefront of energy-efficient technologies through the innovative research and development capabilities of its New Jersey headquarters and California office. For more information, call 800-555-5629, email info@maxlite.com, or follow us on LinkedIn, Facebook and Twitter.
###