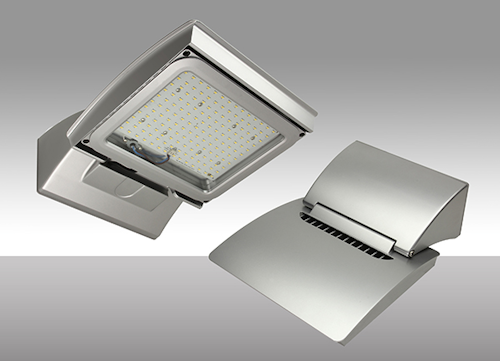 MaxLite proudly introduces the MPulse Surface Mount Luminaire as part of a sleek new outdoor lighting range with high-performance optics and a distinctively clean design.
The LED luminaire is part of a comprehensive, architectural-grade outdoor product family. Developed to be a complete project solution, the MPulse Collection also includes Area Lights, Flood Lights, Canopies and Bollards.
Thoughtfully designed for downlighting and wall washing applications, the MPulse Surface Mount Luminaire features a 45-degree adjustable head that enables it to be applied as an open face or full cutoff and dark sky compliant fixture. Designed with patent-pending visual comfort optics, the MPulse distributes light through a non-pixelated light source that creates uniform, eye-pleasing illumination with minimal glare.
MaxLite offers the MPulse Surface Mount Luminaire in Type III and IV distributions, and color temperatures of 3000K, 4000K and 5000K, to suit a broad range of application needs. Lumen packages range from 3,000 to 12,500, with all models meeting DesignLights Consortium (DLC) Premium 4.1 performance requirements. Engineered to be virtually maintenance-free, the MPulse is rated for 100,000-plus hours of lumen maintenance at L70 standards and comes supported by MaxLite's 10-year limited warranty and lifetime product support.
The MPulse is designed to be installed or serviced in the field by a single person. The back plate mounts to the surface and allows the wall pack to hang for easy wiring. Once the power supply is connected, the fixture clicks into place and secures with screws. A hinged back cover provides access to the driver for quick and easy replacement in the field.
The MPulse is available in universal (120-277V) and high (347-480V) voltages. Customers can choose from four standard finishes (silver chrome, polished bronze, black and white) to complement building exteriors. Custom finishes are also available upon request. The MPulse can be combined with motion sensor, button photocell and external battery backup options to further energy savings and enhanced safety.
For a full list of product features, go to www.MaxLite.com/MPulse.
About MaxLite (www.maxlite.com)
MaxLite has been committed to providing energy-efficient lighting products since 1993. One of the first movers into LED technology in the industry, MaxLite offers an extensive line of quality, certified indoor and outdoor LED lamps and luminaires. A five-time recipient of the ENERGY STAR Partner of the Year Award for its industry leadership, MaxLite continues to be at the forefront of energy-efficient technologies through the innovative research and development capabilities of its New Jersey headquarters and California office. For more information, call 800-555-5629, email info@maxlite.com, or follow us on LinkedIn, Facebook and Twitter.
###