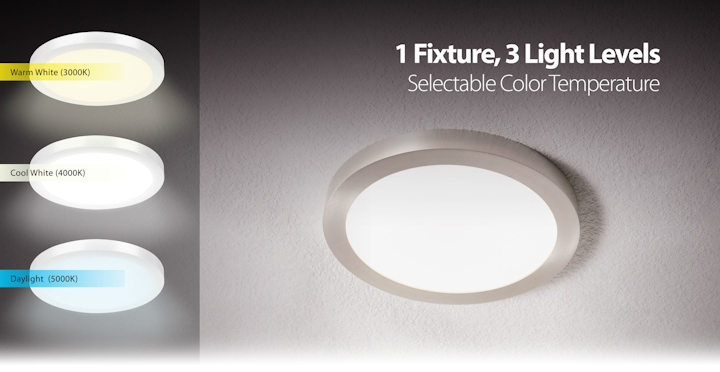 LOS ANGELES, Calif. – May 7, 2018 – Feit Electric, a leading global lighting manufacturer and pioneer in energy efficient lighting, is launching a new product line designed to provide the right light for any room or activity with one convenient LED light fixture. A natural evolution of the company's ColorChoice IntelliBulbTM lighting solutions, the Feit Electric Edge Lit Flat Panel Fixtures and Retrofit Kits with Selectable Color Temperature enable the ability to create varying moods throughout the house for reading, relaxing or boosting energy. The lights are now available with the same patented selectable color temperature feature providing the option for customers to choose warm white, cool white or daylight on the fixture before installing, or to adjust by toggling a wall switch.
Consumers and business owners can optimize the lighting of any room without the need for special smart home hardware or apps as the intelligence is built into the light fixture. The product line also provides contractors, maintenance and repair professionals the opportunity to reduce their inventory requirements by stocking one flexible fixture with multiple color temperature settings.
The LED Flat Panel lighting features include:
Uniform light distribution without hot spots, flicker or glare with edge lit integrated LEDs.
Slim low-profile design and flexible installation flush mount, as a wall sconce or in recessed cans.
Updating existing conventional lighting to the latest energy saving LED technology offering up to 50,000 hours of life and saving up to 80% in energy consumption.
Availability in a variety of sizes and finishes: round, square and rectangle.
"Our LED Flat Panel and LED Retrofit Kits are some of our most popular products, so it made a lot of sense to include the color selectable feature as the next evolution of the product line," says Alan Feit, Executive Vice President, Feit Electric. "Now our customers have more innovative options for customizing the look and feel of a space while also upgrading their fixtures to gain all the cost and energy saving benefits of LED."
For more information on Feit Electric products visit www.feit.com. The fixtures will be available through major retailers and electronic distributors.
About Feit Electric
Founded and headquartered in California, Feit Electric is celebrating 40 years as a leading global lighting manufacturer. An innovator in green technology, Feit Electric was one of the first to bring compact fluorescent lamps (CFL) and LED technologies to market. Through innovative design, supply chain expertise and industry leading technology, Feit Electric offers its customers a full portfolio of reliable lighting products including home décor lighting collections, light fixtures, smart and feature rich high-performance lighting solutions as well as a full line of general household, specialty light bulbs in all shapes, sizes and configurations. For more information, visit feit.com, and follow us on Twitter @feitelectricinc and Facebook @FeitElectric.
###