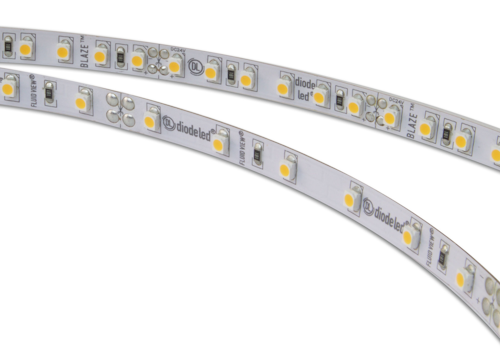 Elemental LED, a leading U.S. based engineering and technology company that manufactures linear lighting solutions, announced today the introduction of a new twelve-year warranty, now the longest in the industry, on its best-selling models of Diode LED tape light and strip light. Elemental LED and Diode LED, its manufacturing and wholesale division, provide a wide variety of superior quality linear, task, and accent LED lighting solutions for both commercial, retail and residential applications.
The new industry leading twelve-year warranty applies to Diode LED's tape and strip light portfolio which includes BLAZE™, ULTRA BLAZE™, DOUBLE BLAZE™, AVENUE 24™, FLUID VIEW®, VALENT® AND DAZZLE 24® and will be effective immediately for purchases going forward. Diode LED products are manufactured at the company's headquarters in Nevada.
"We're able to more than double the warranty term because of the proven track record of quality, durability, and advanced technology engineered into Diode LED tape and strip light," says Matt John, Elemental LED's Chief Strategy Officer and EVP. "Our team – from product development, engineering, manufacturing to customer service – is dedicated to delivering superior, commercial grade products for a variety of applications with optimum performance that will last for decades."
"A twelve-year warranty on linear LED lighting is an industry first," says Jim Weathers, CEO of Texas Lighting Sales. "That a manufacturer would back up their products with such a long warranty helps build the kind of confidence necessary for LED lighting to further gain a stronghold in the industry. Kudos to the team at Elemental LED for being the first to do this."
President Chris Le Blanc said, "Changing the warranty from a five-year to a twelve-year term reflects the company's commitment to innovating the highest quality products in the market that our customers have come to depend on, and to provide the best-in-class customer experience. The longer warranty will help customers protect their investment knowing they have purchased a reliable product."
About Elemental LED:
Elemental LED, founded in 2008, is a leading North American based engineering and technology company with offices in Nevada, California, China and the United Kingdom. We manufacture an extensive high-quality portfolio of superior patented linear, accent, and task LED lighting featuring unparalleled CRI and R values with flawless, and vibrant high-fidelity color rendering. We are proud to be America's largest provider of low voltage linear LED lighting, inspiring lighting professionals with our innovative technology, unmatched quality, and best-in-class customer experience.
Media Contact
April Mitchell
Senior Vice President, Marketing & Customer Experience
Elemental LED
marketing@elementalled.com