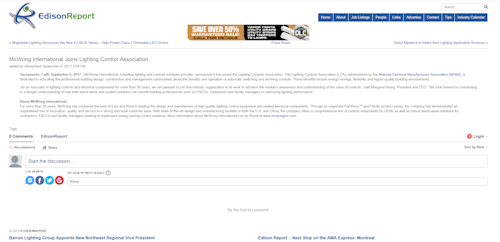 McWong International Joins Lighting Control Association
added by RandyReid September 6, 2017 2:09 PM
Sacramento, Calif. September 6, 2017—McWong International, a leading lighting and controls solutions provider, announced it has joined the Lighting Controls Association. The Lighting Controls Association (LCA), administered by the National Electrical Manufacturers Association (NEMA), is dedicated to educating the professional building design, construction and management communities about the benefits and operation of automatic switching and dimming controls. These benefits include energy savings, flexibility and higher-quality building environments.
"As an innovator in lighting controls and electrical components for more than 30 years, we are pleased to join this industry organization in its work to advance the market's awareness and understanding of the value of controls," said Margaret Wong, President and CEO. "We look forward to contributing to a deeper understanding of how both stand-alone and system solutions can benefit building professionals such as ESCOs, contractors and facility managers in optimizing lighting performance."
About McWong International
For more than 30 years, McWong has combined the best of East and West in leading the design and manufacture of high-quality lighting control equipment and related electrical components. Through its respected PacWave™ and Pacific product series, the company has demonstrated an unparalleled mix of innovation, quality and service to a strong and loyal customer base. With state-of-the-art design and manufacturing facilities in both the U.S. and China, the company offers a comprehensive line of control components for OEMs as well as robust stand-alone solutions for contractors, ESCOs and facility managers seeking to implement energy-saving control solutions. More information about McWong International can be found at www.mcwonginc.com.