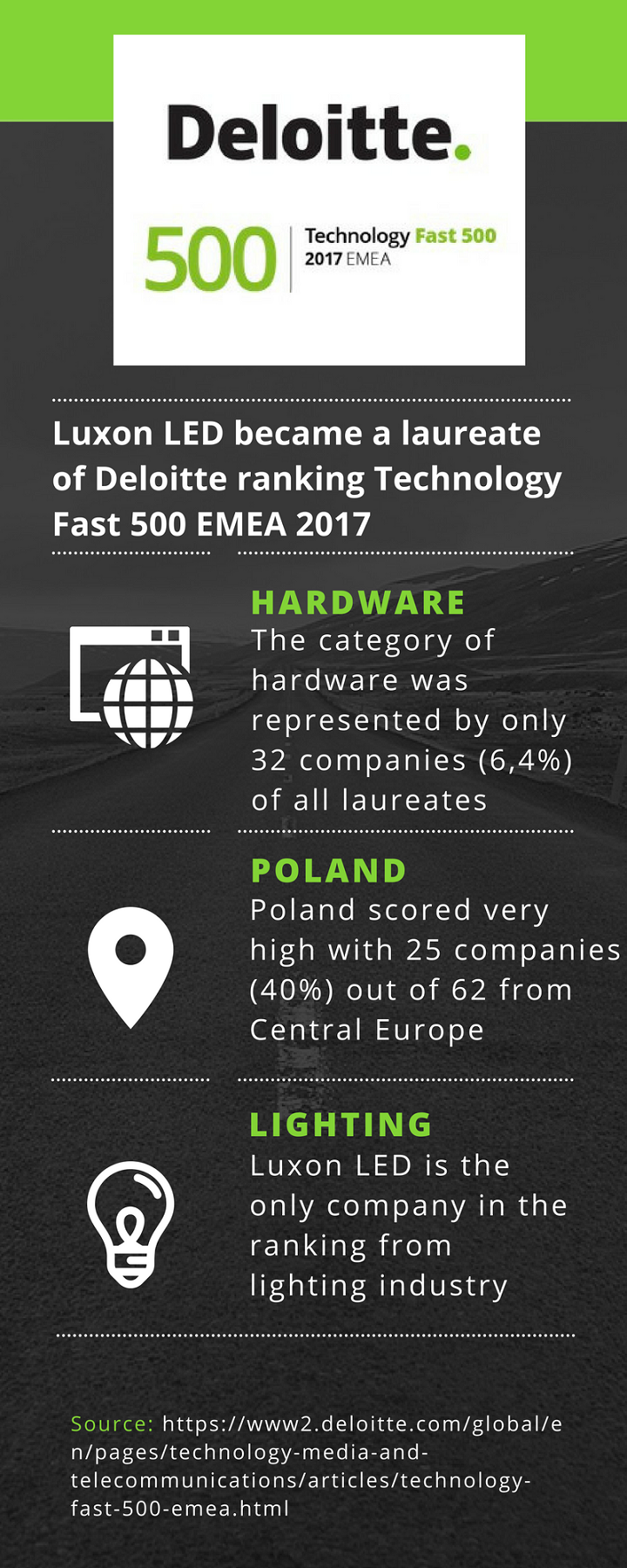 The only company from lighting industry which made it to the Deloitte Technology Fast
500 EMEA 2017 ranking is Luxon LED from Poland. The list consists of 500 companies from
Europe, Middle East and Africa, out of which only 32 companies represent hardware
category.

" This year's EMEA program features winners from 18 countries, with an average growth
rate of 1,377 percent, up from 967 percent in 2016. Growth for individual companies on the
list ranged from 220 percent to 107,117 percent. Winners were selected based on
percentage fiscal-year revenue growth from 2013 to 2016."
The success of Polish company manufacturing LED lighting is a part of worldwide trend of
implementing more efficient LED lighting. Luxon LED has a strong potential for further
expansion, only in 2017 it has grew 61% from 13,4 mln PLN to 22 mln PLN. The company
wants to expand in the field of industrial lighting, where it already has done projects for
Clients like GlaxoSmithKline, Tullamore Dew or Technische Universität Wien. Luxon LED is
open for new partners across entire Europe.
Source: https://www2.deloitte.com/content/dam/Deloitte/global/Documents/Technology
-Media-Telecommunications/gx-emeafast-500-2017-rankings.pdf
Luxon LED: Polish company manufacturing industrial LED lighting. Luxon LED is
celebrating 10th anniversary in January 2018. In 2008 it was established by 3 students
from University of Wroclaw, who are constantly developing the company together.
www: www.luxon.pl
facebook: https://www.facebook.com/luxonled/
Linkedin: https://pl.linkedin.com/company/luxon-led