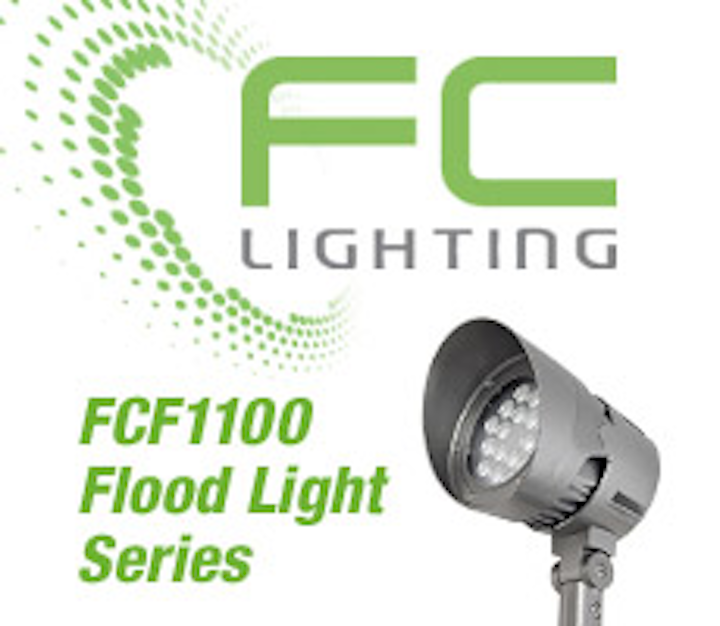 FC Lighting, the US commercial lighting manufacturer, located in St. Charles, IL., introduces a new commercial LED flood light series with four different family sizes. The FCF1100 Flood Light Series includes a 3", 5", 6" and 9" models that have the same look but, use different powered lumen packages to meet lighting design specifications. Furthermore, this creates uniformity in style with scalable performance using various fixture sizes. The LEDs are available in five color temperatures, 27K, 3K, 35K, 4K and 5K, to create the right ambiance for your outdoor lighting. The LED lamps used for this flood light series offer power efficiencies that conventional lamp options cannot. To that point, the power consumption used, compared to the highest lumen output of the different sizes is the FCF1103 (3") - 525 lumens at 7 Watts, FCF1105 (5") - 1,750 lumens at 16 Watts, FCF1106 (6") - 4,185 lumens at 42 Watts and FCF1109 (9") - 9,025 lumens at 88 Watts. The FCF1100 series floods are designed to accommodate a multitude of diverse lighting solutions and installation scenarios. Use this link to review detailed specifications: Flood Light Specifications
The engineers at FC Lighting added several optical accessories to support different lighting design needs, including a Snoot (SN), Long Snoot (LS), Screen Frame (SF) and Rock Guard (RG). One of the considerations with site lighting and landscape lighting is protecting the lighting fixtures from accidental damage or vandalism. Whereas, the snouts create a more focused light beam and reduce visual glare, the rock guard and screen frame add protection to the sealed, tempered glass lens that covers the LEDs. As well, the high-powered flood lights include five different light beam angles for each sized flood light to vary the focus of the light pattern from a broad surface wall wash to spotlighting a specific feature.The available light beams are 10, 17, 24, 38 and 60 degrees. FC Lighting engineers can evaluate opportunities and design solutions to meet unique installation challenges. Learn more by reviewing our FCF1100 Series Flood Light brochure: https://www.fclighting.com/wp-content/uploads/2018/03/FCF1100-Flood-Series-Brochure.pdf
The FCF1100 Flood Light series offers an extensive selection of industry mounting options. To that point, there are large and small ground spike options, base mount attachments, mounting types for round and square poles that also include different arms and post top fittings, as well as, many surface mounting solutions. Refer to the Flood Light product section of fclighting.com to review all the available mounting options and installation instruction details.
Unique to the FCF1100 Series Flood Light design is the heat dissipation control. The housing is divided into two parts to separate the universal voltage LED driver from the LEDs, by placing the LEDs in the front housing where needed and then placing the driver in the back housing. Furthermore, the heatsink or cooling fins are located between the front and rear housing serving a dual-function cooling purpose. Also, the heatsink fins are in a vertical position allowing heated air to efficiently escape out the top. Each of the FCF1100 family style sizes utilize this same design. See specifications for FCF1100 Series Flood Lights.
These exterior flood lights are rated IP65 and built to endure outdoor, wet location use. As an added quality, all FC Lighting flood lights are finished using FC Lighting's 8-stage powerder coat process that uses a six-stage chemical pre-treatment process that includes iron phosphate, to prepare the substrate for a UV stable, super durable standard polyester powder coat. This powder coat finish passes the Salt Spray Test (ASTM B117). Click here to learn more.
FC Lighting, Inc., is a U.S. manufacturer of commercial architectural lighting fixtures for high-aesthetic indoor and outdoor applications, such as, retail, entertainment, hospitality, educational, government and other installations. Headquartered in St. Charles, IL (USA), the company ships globally. For further information about FC Lighting and its broad line of lighting products call 800-900-1730 or visit their website at http://www.fclighting.com.