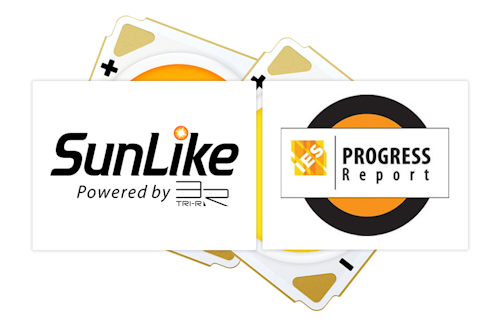 Seoul Semiconductor's Innovative SunLike LEDs Earn Industry Recognition in 2018 IES Progress Report
ANSAN, South Korea (August 17, 2018) – Seoul Semiconductor (KOSDAQ 046890), a leading global innovator of LED products and technology, has announced that its SunLike Series natural spectrum LEDs, powered by TRI-R, were recognized in the 2018 Illumination Engineering Society (IES) Progress Report, presented on August 10, 2018 at the IES Annual Conference in Boston, MA.
As the recognized technical and educational authority on illumination, IES annually announces significant new advancements in lighting products, research, publications, and design tools in its IES Progress Report. Acceptance is based on an impartial judging process used by the committee to evaluate each submission on its uniqueness, innovation and significance to the lighting industry.
SunLike Series natural spectrum LEDs are the world's first LEDs to produce light that closely matches the spectrum of natural sunlight, delivering human centric lighting that lowers the blue light peak common in conventional LEDs. They deliver light that eases eye strain, helps maintain stable human circadian rhythms, and enhances the color clarity of objects. Introduced in June 2017, the SunLike Series natural spectrum LEDs are an advanced light source that combine the latest optical and compound semiconductor technology of Seoul Semiconductor with Toshiba Materials' TRI-R technology. TRI-R technology, supported by Toshiba Materials, defines its original concept as "the light closest to the sun for human wellbeing." TRI-R technology enables the spectrum of natural sunlight to be reproduced by a white LED light source technology.
According to the results of a study done by the Bio-Information Laboratory of Seoul National University Hospital in July of 2018, SunLike Series natural spectrum LEDs have been shown to reduce eye discomfort and improve sleep patterns. Seoul Semiconductor's SunLike Series LEDs have been adopted by premium lighting brands in Korea, US, Europe, China, and Japan to deliver high value human centric lighting for home lighting, smart desk stands and lamps, offices, hotels, and public facilities.
In addition, the SunLike Series LEDs are the only 25W single light source in the world to receive RG-1 level Eye Safety Certification from the Korea Testing & Research Institute last November. This is the highest safety level given to light sources with no photobiological hazards.
"It is honor for the SunLike Series natural spectrum LEDs, powered by TRI-R, to be recognized in the 2018 IES Progress Report as one of the significant developments in the art and science of lighting, validating our focus on the development of high performance, value added LED technology," said MinSu Son, marketing vice president of Seoul Semiconductor.
"The demand for human centric lighting continues to rise as experts agree on the importance of quality light for human health," added Son. "We developed the SunLike Series LEDs to provide lighting designers and engineers with true natural spectrum LEDs that not only minimizes the negative health effects of artificial light, but actively enhances the overall lighting experience."
In May, SunLike Series LEDs were recognized with a 2018 Edison Award from the influential lighting industry news site EdisonReport as one of the "Top 10 MUST SEE Products" at the 2018 Lightfair International conference. In addition, SunLike Series LEDs received the Gold Award as a Product of the Year from the German electronics industry magazine, Electronik, in March of this year.
To view the detailed specifications of Seoul Semiconductor's SunLike Series natural spectrum LED portfolio, please visit: http://www.seoulsemicon.com/en/technology/SunLike/
# # #
About the Illumination Engineering Society:
Established in 1906, the IES is the recognized technical and educational authority on illumination. For more than one hundred years its objective has been to communicate information on all aspects of good lighting practice to its members, to the lighting community, and to consumers through a variety of programs, publications, and services. IES has a diverse membership of engineers, architects, designers, educators, students, contractors, distributors, utility personnel, manufacturers, and scientists, all contributing to the mission of the Society: to improve the lighted environment by bringing together those with lighting knowledge and by translating that knowledge into actions that benefit the public.

About TRI-R Technology
*TRI-R Technology is a sunlight spectrum reproduction technology that is a registered trademark of Toshiba Material Co., Ltd.
About Seoul Semiconductor
Seoul Semiconductor develops and commercializes light emitting diodes (LEDs) for automotive, general illumination, specialty lighting, and backlighting markets. As the fourth-largest LED manufacturer globally, Seoul Semiconductor holds more than 12,000 patents, offers a wide range of technologies, and mass produces innovative LED products such as SunLike – delivering the world's best light quality in a next-generation LED enabling human-centric lighting optimized for circadian rhythms; WICOP – a simpler structured package-free LED which provides market leading color uniformity and cost savings at the fixture level, providing high lumen density and design flexibility; NanoDriver Series – the world's smallest 24W DC LED drivers; Acrich, the world's first high-voltage AC-driven LED technology developed in 2005, including all AC LED-related technologies from chip to module and circuit fabrication, as well as multi-junction technology (MJT); and nPola, a new LED product based on GaN-substrate technology that achieves more than ten times the output of conventional LEDs. UCD constitutes a high color gamut display which delivers more than 90% NTSC. To learn more, visit www.seoulsemicon.com.
Contacts:
Seoul Semiconductor Inc.
North America
Andrew Smith
Tel: +1 (901) 831-6614
Email: andrew.smith@seoulsemicon.com
Asia and Europe
Jeonghee Kim
Tel: +82-70-4391-8555
Email: jeonghee.kim@seoulsemicon.com