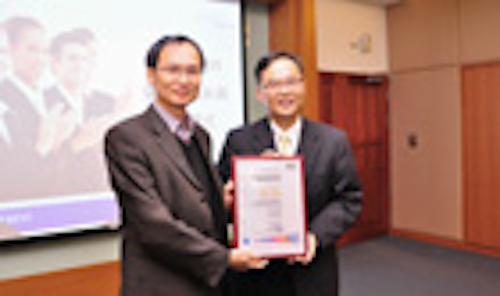 Opto Tech Corporation (OPTOTECH) is a specialist provider of optoelectronics semiconductor integrated solutions, with business areas that include LED epitaxial materials and die manufacturing, component packaging and LED application product manufacturing. Founded in 1983 as a manufacturer of LED dies, OPTOTECH began production of large-sized LED displays in 1991, and subsequently expanded steadily into global markets. OPTOTECH's strategically-focused development and vision have made the company one of the world's leading suppliers of optoelectronics products.
With more than 30 years of manufacturing and sales experience, OPTOTECH has consistently held to its core brand values of Professionalism, Trustworthiness, Innovation and Flexibility, and is committed to providing customers with solutions that meet their needs. Reflecting the company's brand values, OPTOTECH's products are characterized by a level of quality that not only conforms to international industrial standards but is fully able to meet the demanding requirements of specialist applications. Making effective use of the company's outstanding R&D team and its advanced manufacturing technology, OPTOTECH is constantly developing new products that feature innovative design and superior functionality.
In regard to environmental issues, OPTOTECH has displayed integrity and creative thinking, working steadily to fulfill its undertakings. A whole-hearted commitment to resource integration and ongoing innovation has enabled OPTOTECH to achieve all-round excellence in terms of product quality, environmental protection, safety, and hygiene. OPTOTECH has continued to make improvements to production processes and other operational activities on an ongoing basis, while also prohibiting or minimizing the use of environmentally hazardous substances, working to save energy and reduce waste, maintaining high safety and hygiene standards, and complying with all relevant product and environmental health and safety legislation. OPTOTECH's dedicated fulfillment of its responsibilities in the area of environmental safety and hygiene, and its contribution to the building of environmental sustainability, have been recognized in the awarding to OPTOTECH of the "SGS Environmental Sustainability Award Marking 15 Consecutive Years of ISO 14001 Certification."
OPTOTECH commented that "For more than 30 years now, we have been wholeheartedly committed to the utilization of our comprehensive resources and ongoing innovation to provide solutions that meet real needs, and as a result the OPTOTECH brand is trusted by our customers. As we move into a new era in which an emphasis on green energy, carbon dioxide emissions reduction and energy-saving is a fundamental requirement for doing business, OPTOTECH will continue to further improve our integrated solutions, incorporating new-generation materials and developing new technologies, to ensure that the concepts of energy conservation are embodied in a meaningful way in our products and applications. By adopting an approach oriented towards sustainable operation, we will be helping to create a brighter future.