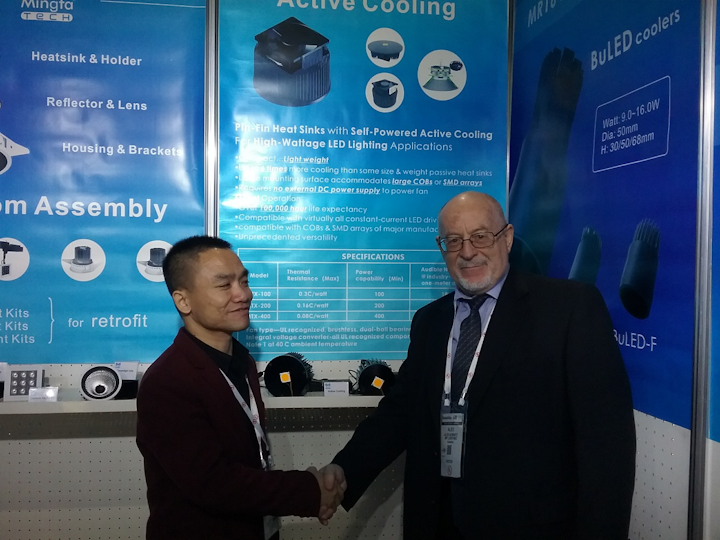 The next step in LED Thermal Management had been accomplished.
Strategies in Light 2018 with the LED Show and Lightspace California were held on February 13 - 15 in Long Beach, CA. It is now time to present some significant facts in the developing of SSL technologies, particularly in Thermal Management of LED fixtures.
We can proudly inform SSL community that MingfaTech presented their first Active Cooling System for High-Wattage LED Lighting Application (MTX-100/MTX-200/MTX-400).
MingfaTech Manufacturing Limited, a LED thermal solution-leading provider, is a certified LED heat sink supplier of many branded LED modules. MingfaTech's design and supply on star heat sinks and pin fin heat sinks coolers, using passive cooling concept, have been helping clients to improve their designs with heat dissipation with better efficiency.
As high-grade professionals, MingfaTech engineers understand the attractiveness of Active Cooling for application in Thermal Management of SSL, for high-wattage LED fixtures particularly. Active Cooling System (ACS) is the best solution to avoid extra size and weight of aluminum heat sinks. It saves materials and eliminates the need to hang those "bobs" under ceilings
MingfaTech established the cooperation with MP Lighting - the developer and owner of innovated concept of ACS, which has been protected by family of US patents.
The claims # 8070324, # 8896212, # 8994273 Patents have covered the wide spectrum of important factors of ACS: improving Thermal Control Circuitry (TCC or Fan Driver), proper thermal integrity of basic ACS elements for increasing thermal conductivity through whole construction of LED fixture, improving the convection inside and outside of its housing.
The cooperation between MingfaTech and MP Lighting is happening on solid basis: we signed the Memorandum of Understanding, where "... Both Parties came to understanding that effective modern ACS can be developed successively just by common efforts and activities of Companies with different profiles: heat sink, fan and LED fixture manufacturers coordinated by common program of development..."
Finally, the License Agreement between MP Lighting and MingfaTech Manufacturing Limited was signed on October 2016.
Our common experimental works and comparable testing (between passive and active cooling) showed clearly that efficiency of ACS can be 4 - 6 times greater than passive cooling (given the same constructions and conditions).
Thus MingfaTech was able to perform its debut in active cooling successfully, without any doubts. Actually, Active Cooling is becoming the trend in LEDs Thermal Managements (for example, the well- knower MechaTronix Company is moving in the same direction).
We wish sincerely to our partners the new achievements in implementation of ACS in their manufacturing, and hope for the best cooperation in the future.
PHOTO
The Manager of General Operation of MingfaTech, - Mr. Toby Mok, and Director of IP Portfolio at MP Lighting, - Mr. Alexander Kornich, meeting at Strategy Light 2018, Long Beach, CA.
This Press Release is dedicated to implementing of Active Cooling System in manufacturing of heat sink supplier MingfaTech Company.