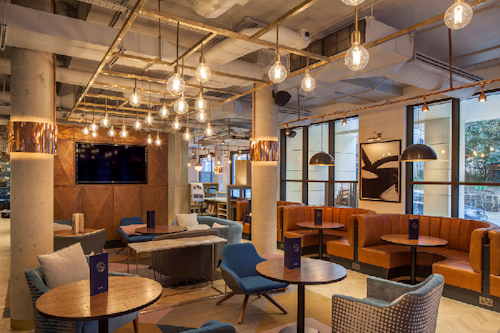 Leading LED filament brand Bright Goods announces its installation into Kingston's brand new DoubleTree Hilton Hotel. The range of decorative, vintage-style LED filament lamps with a huge designer following is lighting up the ground floor public areas including the reception, lobby and restaurant. The project has been specified and managed by interior design architects, DesignLSM in conjunction with The Light Corporation.
The DoubleTree, an upmarket 146 bedroom Hilton hotel located on the edge of the town offers stylish and contemporary accommodation, state of the art conference facilities and the hotel's signature restaurant, Hawkers Bar and Brasserie, which is themed around Kingston's extensive aviation history. It is an Art Deco-inspired area with an open-plan kitchen and an enclosed outside dining terrace.
The Light Corporation was commissioned to design a lighting system that not only complemented the aviation theme but provided warm and elegant illumination throughout. An impressive range of Bright Goods LED filament lamps was specified to enhance distinct areas of the hotel. The lamps, all in 2.2K very warm colour temperatures highlight the various shaped LED filaments and create a welcoming, atmospheric ambience. The Florence 6W sepia tinted maxi globes, for example are hung bare and installed in clusters amongst the copper pipework that runs around the perimeter of the restaurant, giving a contemporary industrial feel. The Elizabeth 3W candles, Joseph 5W GLS', Jane 6W sepia tinted classic pears and John 6W long tubes are installed throughout the reception area, lobby, lounge, kitchen, bar and restaurant area providing the ultimate warm and cosy glow for all visitors.
Steven Brazil, General Manager at DoubleTree by Hilton in Kingston said, "Aesthetically we were looking to create a modern and industrial décor and the Bright Goods LED filament lamps definitely helped us achieve this. They look fantastic and we have received some really positive feedback from our hotel guests who have commented on their vintage-modern design. We wanted to incorporate 'mood lighting' which could be altered throughout the day and into the evening and as these lamps are fully controllable, and can be dimmed when required, they were exactly what we were looking for."
Matt Parker, project lighting designer of The Light Corporation added, "We use Bright Goods lamps in every project we do in the hospitality sector and trust them for reliability, longevity and consistency of colour. Two years down the line after our first installation of Bright Goods lamps, they are still going strong, not a single lamp failure which is fantastic. It is good for us as it proves we are with the right supplier and good for Bright Goods as it verifies their longevity. We know they work, they look great and they perform but more than that, they are going to last a long time."
- END -
About Bright Goods
Bright Goods® is a brand launched in 2015 by LED Eco Lights and provides a comprehensive range of vintage-style decorative LED filament lamps for the hospitality, design and retail sectors. Trusted and relied upon by architects, retailers, restauranteurs, bars and pubs, Bright Goods is the
designer's choice for LED filament lighting and can be seen along the high street in Dishoom, DoubleTree by Hilton, Fuller's Pubs, Gourmet Burger Kitchen, Jamie's Italian, Kate Spade, Nando's, Ormer Mayfair, Pizza Express, Premier Inn and The Ivy.
Bright Goods lamps are supplied with a 2 year guarantee, are energy efficient and fully dimmable. The range includes globes, squirrel cages, candles, tubes and traditional GLS shaped bulbs. ,
LED Eco Lights was founded in 2006 and celebrates 11 years as an award-winning LED lighting manufacturer. Their Goodlight™ range of LED lamps and luminaires are also available for commercial, industrial, amenity, leisure and hospitality environments. For more information please contact: Sophia Burr, Marketing Manager, LED Eco Lights, Unit 7, J4 Camberley, 15 Doman Road, Camberley, Surrey GU15 3LB, Tel: 01276 691230. Email: sophia@ledecolights.com. Web: www.brightgoods.co.uk
a0511led
Press contact:
Peter van der Sluijs
Neesham PR
peterv@neesham.co.uk
+44 (0) 1296 628180