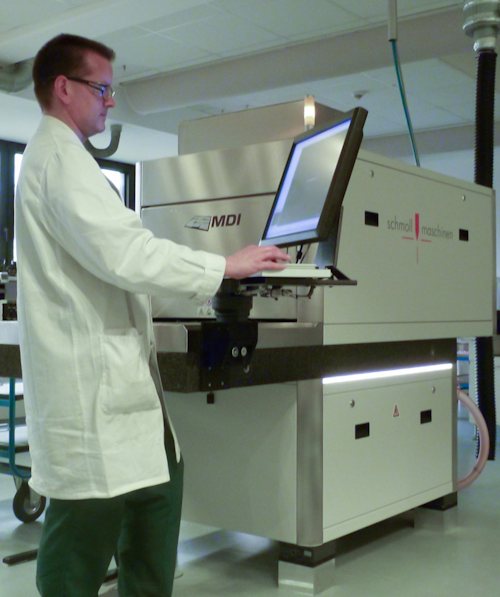 In Peters' technical showroom where all steps necessary for processing the photoimageable ELPEPCB Elpemer solder resists can be performed, a new high performance DI machine of the type Schmoll MDI-ST (Micromirror Digital Imaging Single Table) is now operative. This system enables Peters to develop and evaluate new Elpemer adjustments for digital direct imaging in close cooperation with their customers, besides performing quality controls.
Widely used in pcb production, the Schmoll MDI system is a compact machine that requires only limited space. It is equipped with with more than two millions of individually addressable micromirrors and powerful UV LEDs with multiple wavelength system, thus achieving a very high resolution and registration accuracy.
Due to the progress in the miniaturisation of pcbs, direct imaging is a future-oriented technology, since the disadvantages related to contact film exposure, such as distortion and mechanical damage or limited resolution, are completely avoided. By using the digital data directly and sharply for exposure, it is possible to reach higher resolutions of up to 30 µm. New products developed by Peters are presented on www.peters.de.
Photo: Elpemer product researcher Frank Krupka conducting initial trials (source: Peters)