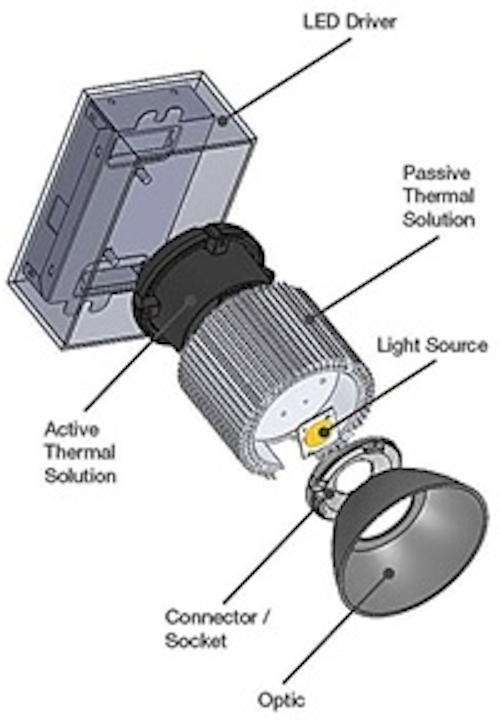 Future Lighting Solutions, the world-class leader and innovator in demand creation, marketing and distribution of solid-state lighting technologies, announces significant advances in selecting a suitable driver in a solid state lighting system via the release of version 1.2 of the Lighting System Creator (LSC). The LSC design tool is available free of charge to engineers and customers worldwide.
These new enhancements enable the user to quickly evaluate the tradeoffs of a single Class 1 LED driver versus multiple Class 2 LED drivers in a luminaire design. Users now have the ability to match a selected light source to a specific driver manufacturer to increase the system warranty period when available. The LSC also supports setting of the board-to-board series or parallel interconnection priority for generating LED driver solutions.
"Design Engineers continuously face design constraints when developing next generation luminaires," said Patrick Durand, Worldwide Technical Director at Future Lighting Solutions. "The Lighting System Creator 1.2 provides the required flexibility to define both optimized and practical system level solutions," added Durand.
For more information about the LSC, visit: http://www1.futurelightingsolutions.com/LSC/
About Future Lighting Solutions
Future Lighting Solutions is a leading provider of solid-state lighting technologies, engineering expertise and online simulation and design tools. Our mission is to facilitate application development and accelerate customers' time to market. Our comprehensive portfolio includes a broad selection of LED system components, and integrated solutions that enable our customers to manufacture cost effective, energy efficient lighting applications.
We provide a comprehensive range of LED light sources, including high-power LEDs, mid-power LEDs, low-power LEDS, COB, LED arrays, LED modules and LED light engines. Our portfolio is completed with a range of optical solutions, LED drivers, passive and active thermal solutions, connectors and controls.
Our world-class team of lighting experts, along with our global lighting resource centers, supply chain solutions and network of specialized partners, ensure the highest quality solid-state lighting solutions for customers.
The company is a division of Future Electronics. For more information visit: www.FutureLightingSolutions.com
Future Lighting Solutions Media Contacts:
Americas, Europe, Middle-East, Africa
Jasmine Kim
Jasmine.Kim@FutureElectronics.com
Asia Pacific
Jocelyn Fong