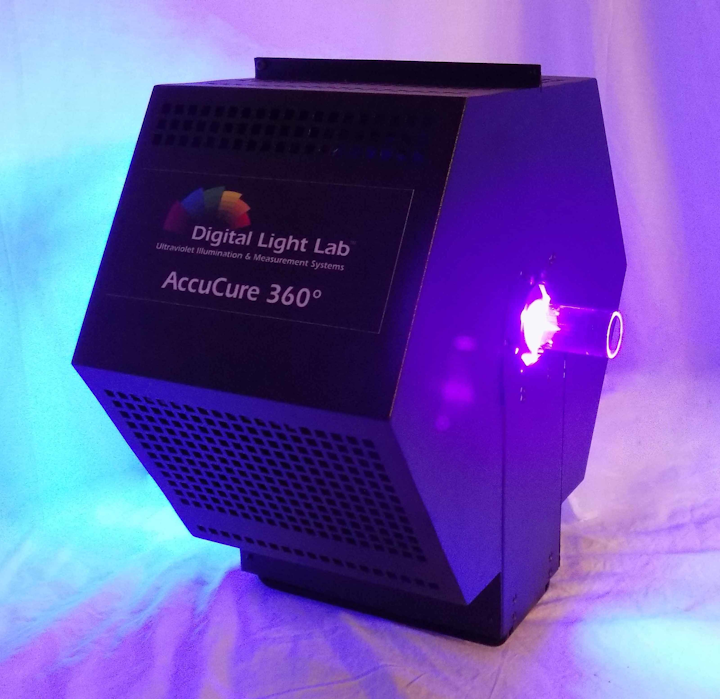 Digital Light Lab is introducing a new and innovative large-scale, UV LED-based curing solution that provides complete 360° high-intensity illumination utilizing advanced reflector-based optics for fiber optic and cable coatings applications and manufacturing processes to handle the increasing number of UV-cured and photo-initiated processes in these industries. The AccuCure 360° features an expandable center illumination core ranging from 16mm to 54mm with a replaceable quartz tube for easy serviceability. This system, with an overall length of 8", allows for seamless expandability by combining multiple systems and direct placement on the manufacturing feed or draw tower for a UV curing solution of potentially endless length. Coupling adapters are also available to allow the use of an inert atmosphere during curing such as nitrogen or argon. Different control options of the system include industry-standard 4-20mA control and temperature monitoring, software control of the system well suited to research and development processes, and manual dial control, all allowing for infinitely adjustable intensity settings. A wide variety of UV & VIS wavelengths are available and sizes may be custom ordered for OEM applications.
Request More Information
Fill out the form below to request more information about AccuCure 360°.
---