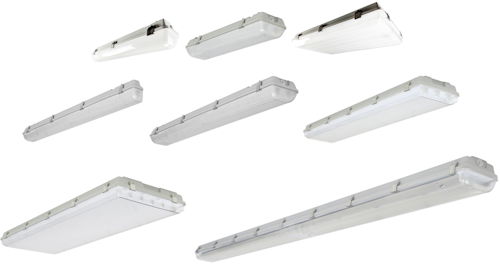 Customers asked and we delivered on a full family of LED vaportight fixtures in our Advantage vaportight family. All in all, we have 8 different body styles that are enclosed and gasketed with an IP66 rating. Each Advantage fixture style has multiple lumen outputs so we can deliver the right light for any application. Along with the standard UL-1598 general LED lighting safety certification, we also have the marine grade rating of UL-1598A and a NSF listing for the food service industry. The Advantage vaportight fixtures include a standard frosted polycarbonate lens, so there's no need to worry about damage and glare! We have 4 choices for the CCT's as well: 3000K, 3500K, 4000K, and 5000K. There are many options available from an external occupancy sensor, internal microwave sensor (great for food grade applications), Bluetooth controls, and WiFi controls. These fixtures are built in our Elmhurst, IL facility and we are proud to say that these are made here in the USA. If your application calls for a vaportight style fixture, take the upper-hand with our Advantage vaportight family!
Request More Information
Fill out the form below to request more information about The Advantage LED Vaportight Family.
---