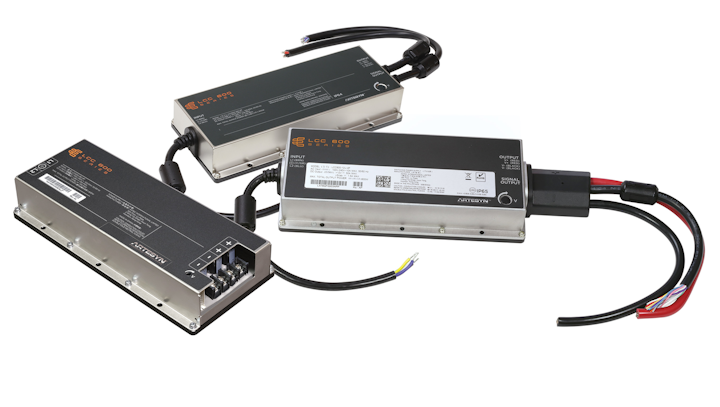 The LCC600 series of fully enclosed conduction cooled AC-DC power supplies comprises four models, offering main output voltages of 12 V, 28 V, 36 V or 48 V. Each model also provides a 5 Vdc standby output that can supply up to 1.5 amps. Rated at 600 watts, these power supplies incorporate a thermal baseplate and are capable of delivering full output power over a wide operating temperature range of -40 to 85˚C. For maximum applications flexibility, the main output is adjustable. The 48 V model, for example, can be adjusted from 44 to 54 V and has a maximum current rating of 12.5 amps.

These power supplies feature a universal 90–264 Vac input and are optionally available with a 180–305 Vac input for use in three-phase mains input applications with a 277 Vac Line-to-Neutral configuration.

Key attributes of power supplies for lighting applications include high efficiency and reliability, small form factor, good regulation, both constant current and constant voltage, ingress protection, ruggedized design and power disturbance immunity. Artesyn's power solutions encompass these essential traits.

Request More Information
Fill out the form below to request more information about LCC600 Series.
---