It's that time of the year again, back to school season is here.
Most of you have spent your summer working, traveling, or just relaxing with friends, and you know the end of summer is upon us. If you're a parent, you know what this means. It's time to gear up and start shopping for the school year. But for college students, it's a little different. Whether you're looking forward to back-to-school or dreading it, it is inevitable.
Early morning classes, cafeteria food, living in the dorms, and late nights studying in the library, most students can relate. It's hard to wake up for an early-morning class and stay awake when you're busy studying all night. Students face countless challenges day-to-day. Getting up in the morning, making money, studying, finding time to hit the gym and having a social life, all take-up time and energy. It's hard to balance all these things when you're a student.
Let's look at some ways to make student life easier.
Space out your classes
"My first semester I took all my classes on the same days, that was a big mistake. I only had a few days of classes, but the workload was unreal. All my tests and presentations were on the same day. I wouldn't do that again." – Lilly Walsh, Pace University Junior
First off, you'll want to choose your class schedule wisely. Spacing out your classes can help with the stress load. Most students take all their classes on the same day so they can get it over with. Sometimes this is not the best option.
Give yourself time in between classes so you can recoup. Having classes back to back means homework, quizzes, and tests for multiple classes on the same day. Spreading out your classes gives you plenty of time to get all your schoolwork done without feeling overwhelmed.
Ease out of bed in the morning
"When I'm waking up in the morning a dim light can help ease me into my day. I don't like the light to be bright right when I wake up, it hurts my eyes." – Jess Wolf, Pittsburgh University Junior
When you're going to morning classes, you want to feel refreshed and ready to go. Waking up early can be a daunting task, but there's an easy way to help you get up in the morning. Instead of jumping out of bed and rushing to class, ease into it. Take your time in the morning, one way to help with this is to use lighting that eases you out of bed.
If you don't want to wake up to bright white light, instead use dimmed soft and warm light. Philips SceneSwitch has options with multiple color temperatures and brightness to choose from. There is no need for a dimmer switch. Philips SceneSwitch is controlled with your existing switch, no need to install a dimmer. This is great for dorms and apartments where you don't have or can't install a dimmer switch. Try SceneSwitch out for yourself and see how it can change how you wake up in the morning. Need a demo? Watch the video here to see how easy it is to use.
SceneSwitch VIDEO:
0:48
Another great way to ease out of the bed in the morning is with Philips Hue. With Hue you can simulate a sunrise when you wake up to help you get out of bed in the morning using the Philips Hue app. Instead of waking up in darkness try out the app to start your day off right.
Study, study, study
Make the time to study. With all the things going on when you're a student, it's easy to get overwhelmed. You procrastinate and put off all your studying till the night before…it happens.

When you are studying you'll want to have a quiet environment with minimal distractions. Go to the library or settle down at home for the next few hours. It is important to see what you're studying. You want to find a spot with plenty of light to keep you focused.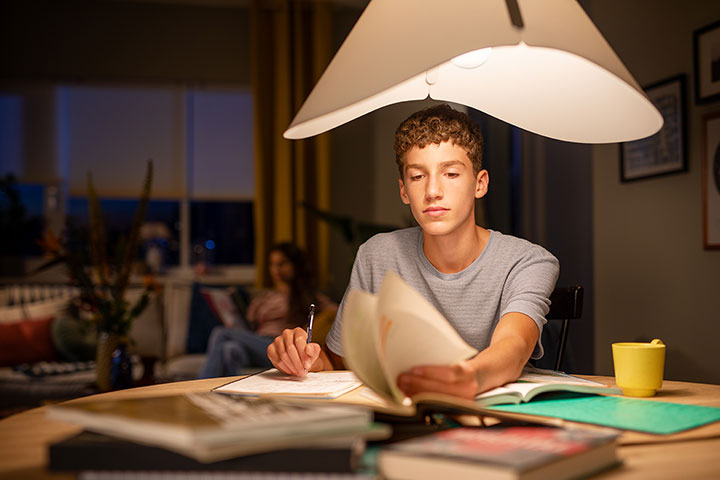 When studying from home, Philips SceneSwitch has a setting to help you concentrate and focus with a simple flip of the switch. Try SceneSwitch out, and see how it can help you study.
The right light can make all the difference, "70% of American parents surveyed agree that quality lighting is vital to a child's performance at school".[1] You can find more EyeComfort survey data here.
"When I'm studying, the right amount of light helps me focus, if it's too dim I get sleepy, when it's too bright I get a headache." – Nick Ngai, Rensselaer Polytechnic Institute (RPI) graduating senior
Choose a light that is bright enough to keep you focused but not too bright that it bothers you. Light in cooler color temperatures or kelvin (like daylight) can also help you stay alert. Learn more about the color of LED light here.
Visual comfort is also important, especially when students spend a lot of time studying. The majority of Philips LED lights comply with specific quality criteria, which Philips calls "EyeComfort". These LEDs meet strict 'comfort criteria'. This ensures the lights meet standards that have been tested by Philips to be comfortable for your eyes. Want to see the research? Check out the EyeComfort white paper here. Try out our LEDs with EyeComfort criteria for yourself and see how the right light can help you study.
[1] This study was conducted by OneVoice Connect Research in July 2017. Over 8000 adults from 11 markets were polled. (Poland, Czech Rep., Sweden, China, Germany, Spain, France, Indonesia, Thailand, USA, Turkey)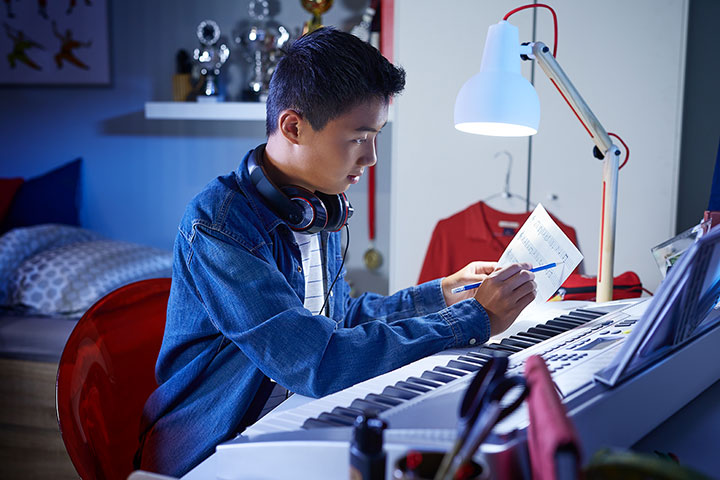 Rest long and often
After a long day of school and studying it is important to get enough rest. You don't want to overdo it and leave yourself exhausted. Getting enough sleep is vital for your success at school. It helps you function, relieves stress, and focus.
Light can affect how you sleep. The type of light makes all the difference in the world. Research shows light deprivation tends to have negative effects towards your sleep cycle.
Warm dim light stimulates melatonin production, resulting in drowsiness and helping us sleep. On the contrary, cool bright light diminishes melatonin production, making us more alert.
This is why the type of light you expose yourself to matters. There are several options, including dimmable LED bulbs or "step dimming" bulbs like SceneSwitch. Some Philips dimmable LED bulbs have a warm glow effect for extra warm light when dimmed. Try either option out and see how they can affect your sleep cycle.
Smart lights can help you to wake you up and help you fall sleep.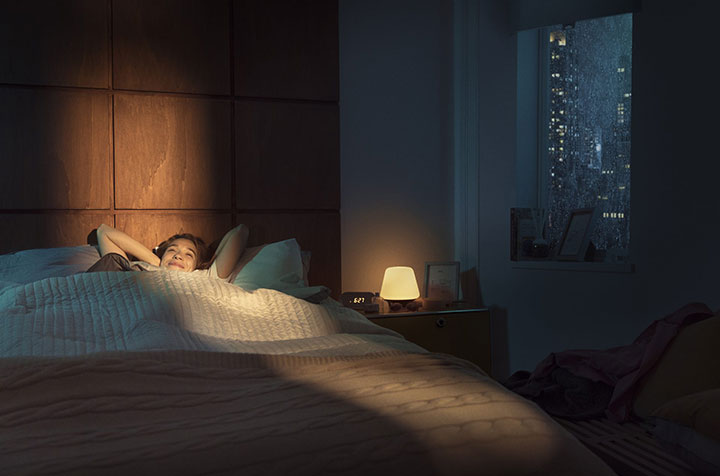 With Philips Hue wellness lamps you can set your own schedule. Set Hue to wake you up in the morning feeling refreshed or to help you get a good night's rest. See for yourself how Philips Hue can change your sleep routines.
Always remember how important lighting can be to have a successful school year. The right light will help you focus and concentrate. The right light can also help you rest so you feel refreshed and energized.
Hope these tips will guide you and make the school year a little bit easier. Give them a shot as you get ready for back to school because summers end is right around the corner.