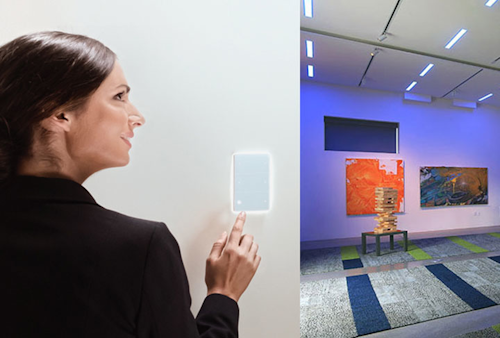 Antumbra iColor Keypad brings sleek, modern design and a powerful but user-friendly control interface to a wall near you.
Each panel packs control for up to 170 intelligent Color Kinetics LED fixtures into a standard size single gang wall box. Much more than your average light switch, the Antumbra iColor Keypad is powered via industry standard 802.1af PoE, requiring only a single low voltage cable for both power and data. With the touch of a button, set the mood for a night out with color changing lights or fine-tune productivity with tunable white light. Program up to 6 user-defined scenes, each of which can be dimmed from 1-100, the choice is yours!
With a built in 'night light' mode, you'll never struggle to find the switch in the dark again. And with the built in proximity sensor, the futuristic panel will illuminate automatically as you approach it. The panel can even be locked out to prevent unwanted lighting changes!
The Antumbra iColor Keypad is comprised of two main pieces: 1) the iColor Communication Module and 2) the Application Module
iColor Communication Module: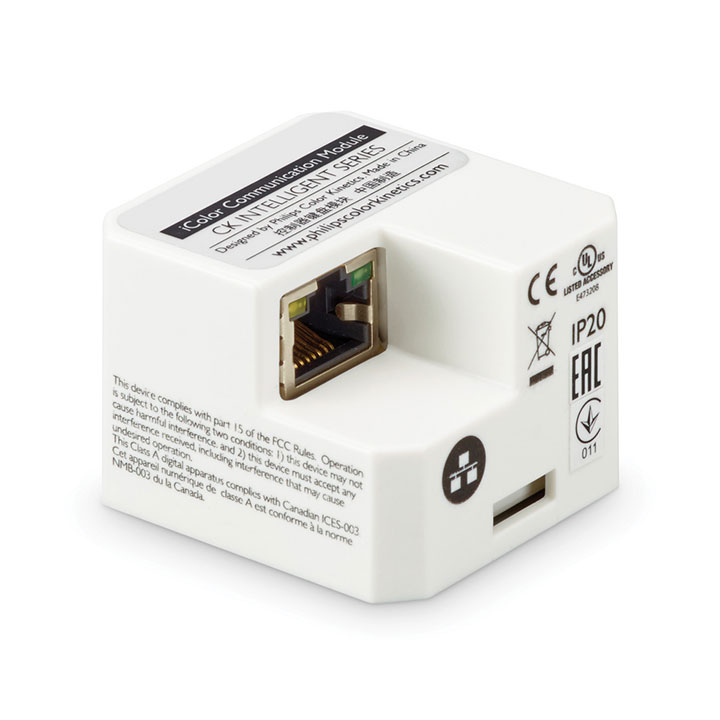 Every Antumbra iColor Keypad needs an iColor communication module. The communication module is the brains of the operation; this component sits behind the scenes, concealed inside your wall behind the front panel (the application module). It has a single 802.11af Ethernet jack to connect to your Color Kinetics lighting system, and snaps right on the back of your application module in seconds during installation.
The application module:
Every
Antumbra iColor Keypad
also needs an application module. The application module (referred to as the "panel" here) is the face of the operation. This fully customizable panel is the sleek, modern control surface that you see and interact with to control your lights. This panel, which can be mounted either horizontal or vertical, is available in two sizes: a taller, more rectangular panel that fits in standard single gang wall boxes or low voltage mounting brackets in North America and Australia, and a smaller, more square panel that fits standard European pattress back boxes and mounting brackets.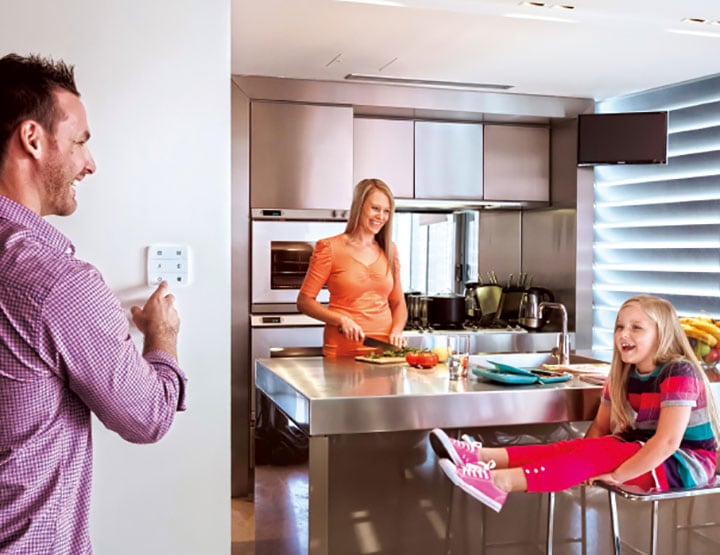 The panel comes in two main flavors, the "AntumbraButton", which is made up of 3 tactile plastic buttons, and the "AntumbraTouch", which is a single smooth glass touch panel (great for cleaning!) with audible feedback for button touches. Each of those styles can be further customized to match perfectly with the design of your space, with options for custom engravings, and a variety of fascia and rim colors. See all the options available and customize your own application module today using our online configuration tool, available on our website here
Bring your rooms to life with intelligent systems using the Color Kinetics Antumbra iColor Keypad and Color Kinetics lights. Find out more at colorkinetics.com