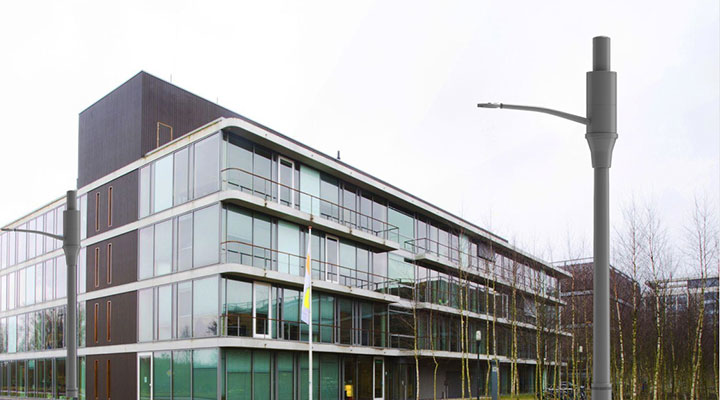 Signify is thrilled to be showcasing a variety of smart poles at Lightfair 2019.
The digital transformation of public spaces is accelerating rapidly, and wireless broadband is becoming more crucial to the development of smart cities.
With these smart poles Signify delivers an innovative infrastructure solution that promotes city livability, connectivity, and accelerates the adoption of LED and controls technologies, by turning a piece of the city's forgotten infrastructure into an asset.
The core of Signify's proposition provides the latest wireless network connectivity, ubiquitous coverage, data capacity throughout the city and decluttering the streetscape while positioning municipalities as a leader in innovation.
BrightSites by Signify, recognizes that municipal leaders are looking for ways to improve their cities by enhancing Wi-Fi and IoT connectivity today in order to enable the transformation to a smarter, connected city of the future. With that in mind, we have developed a complete line of smart poles utilizing Wi-Fi, IoT, 4G ,5G and 5G mm LTE technologies.
Did you know that availability of high-data rate mobile wireless access and Wi-Fi are viewed as a necessity rather than a luxury?
As a result, wireless carriers need to dramatically increase the number of cell sites to meet the burden of increased data requirements. Dense urban areas will feel the greatest impact and this demand for additional cell sites will create additional non-core work on municipal departments.
Maintaining a visually pleasing cityscape, while balancing residents' demands for reliable, high-speed mobile data coverage will become more and more challenging.
BrightSites by Signify solution solves this problem for both the city and wireless carriers.
Our smart pole is a new street light pole, designed to take advantage of the smaller footprint of small cells, Wi-Fi access points new 5G technology. It also provides an innovative, integrated approach to delivering enhanced mobile data access to the city's residents. Light poles are an existing infrastructure with power that provides elevation and a large diversity of locations. With the conversion to LED, streetlights change from a simple on/off source of light into a digital network capable of multiple control functionality.
Here are a few customer comments about Signify's smart poles:
· I wish we had known about these streetlight poles earlier.
· Finally, a solution that allows the city to maintain our aesthetics.
· When can we purchase these poles?
· The product is spot on to what the market is looking for.
· Wi-Fi, cameras, sensors, the perfect combination!
· The design is sleek and innovative.
See for yourself, visit us at the Signify booth #1401. My colleagues and I look forward to continuing the conversation.