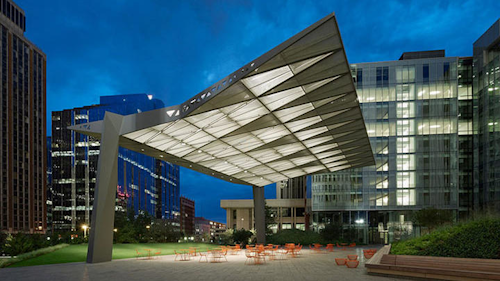 After a move from the outskirts of Oklahoma City, Oklahoma, USA, SandRidge Energy Corporation, an oil and gas exploration company, catalyzed the city's revitalization efforts by constructing a new innovative headquarters in the heart of downtown. The campus, named SandRidge Commons, spans multiple buildings and city blocks. Together, the architecture and landscape balance the company's needs and promote community engagement within the space. The centerpiece of the complex is a Belluschi-designed skyscraper built in 1970, which serves as the primary office building.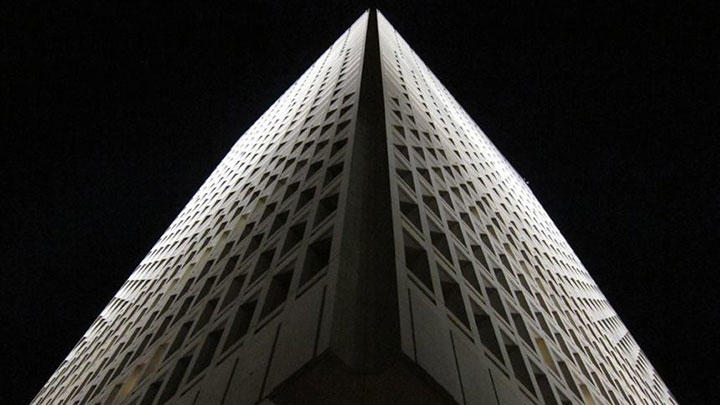 Renfro Design Group, Inc., was commissioned to provide SandRidge Commons with an innovative illumination system to complement the site's architecture. The system was intended to replace the lighting on the prominent 30-story historic tower, and to provide illumination with fixtures that were hidden from passersby. The enhanced lighting was designed to reinforce the outdoor space so that it could be enjoyed at night and year-round. The architects, Rogers Partners, also desired an energy-efficient lighting solution. "Our practice is about the overlap between architecture, landscape, and urban design, so it's kind of an ideal project for us," said principal Robert Rogers.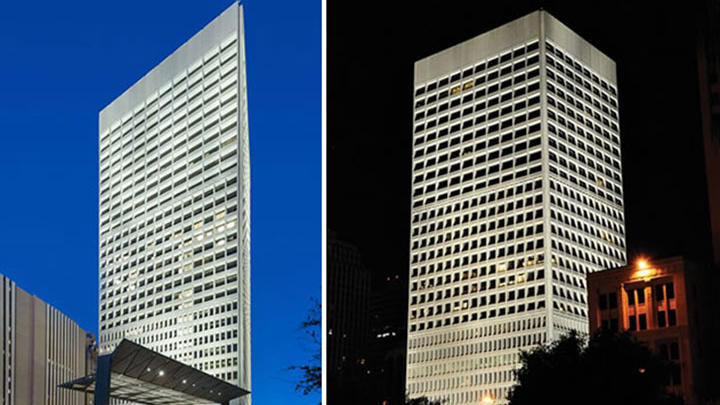 The designers used Color Kinetics to light the face of the office tower. eW Reach Powercore LED floodlights, using 8, 13, and 23 degree beam angles, projected 4000 K white light evenly up the 393-foot tower and highlighted the three different window shapes of the building's upper, middle, and lower sections.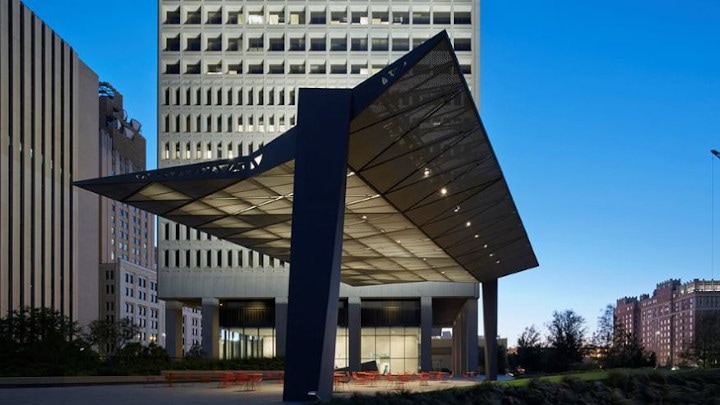 The plaza canopy, built with two layers of perforated metal, provides shade relief for the outdoor plaza during Oklahoma's extreme summers. The canopy was also illuminated using Color Kinetics. This focal point of the outdoor landscape is lit at night with eW Graze Powercore at 10 and 30 degree beam angles in 3000 K, creating an inviting light.
The Color Kinetics LED lighting solutions met the architectural goals of the project, and proved to be an energy-efficient choice. Compared to the previous conventional lighting system, the new lighting system reduced the amount of energy necessary to light the façade by 73%.