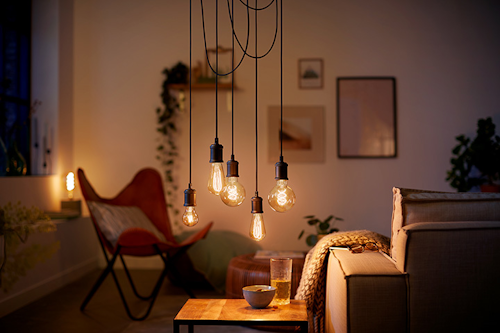 Do you love the look of vintage incandescent bulbs? With amber glass, glowing filaments, and shapes reminiscent of yesteryear, Philips vintage filament LED bulbs bridge the gap between retro style and modern energy efficiency. These bulbs are growing in popularity and lighting up homes with the warm touch of nostalgia. With a crystal-clear glass bulb and an intricate LED filament, these vintage LEDs demand to be seen and look beautiful on or off. When turned on, the filament emits the familiar orange glow that we loved about incandescent. With no visible flickering and instant full brightness when switched on, you will also enjoy soft and evenly distributed light.

Where to use Vintage LED Bulbs
Vintage filament LED bulbs are versatile and work with many styles that are trending today. Is your look eclectic, rustic, traditional, industrial, or retro? These bulbs are a natural fit wherever you want to create a warm, inviting atmosphere with a nod to the past. Use them with industrial style or glass fixtures.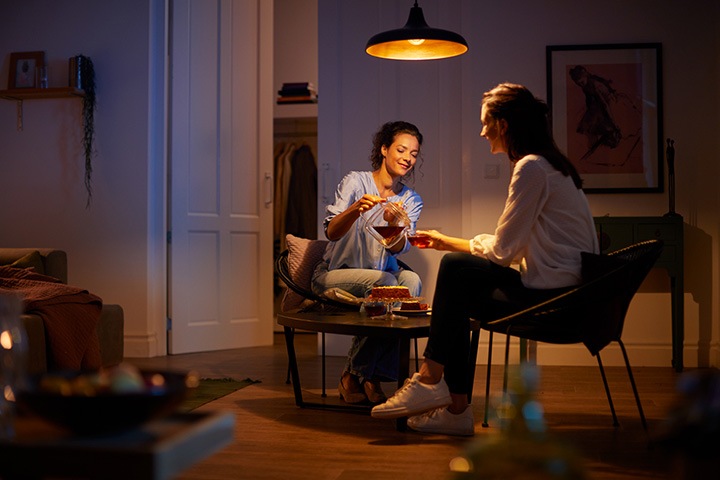 Compliment a rustic or industrial metal fixture
Or, skip the fixture and hang a group of them from cables, mixing or matching shapes and sizes. You can make a signature statement with a single giant Philips Vintage LED bulb as a focal point over a table. Complete the retro vibe with a classic black or premium gold vintage style cord. Designed with a standard medium (E26) base, the Philips Vintage LED family of products will fit wherever you use a standard bulb.

Create an interesting group by mixing and matching, Use a single, giant bulb for a focal point, perfect in vintage-style fixtures
Outdoor Options
With the warmer months approaching, think about updating your outdoor space with vintage filament bulbs in your string lights. These add a romantic touch to patios, gardens, and warm illumination to make your outdoor gatherings last long after the sun has set.
Retro Look, Modern Energy Savings
Unlike their incandescent counterparts, these vintage LED bulbs are incredibly energy efficient. So, you can keep the look you love but without the high energy bills. Philips Vintage LED bulbs are 90% more energy efficient when compared to incandescent, and with a significantly longer lifetime. Create the vintage look you love and feel good about the energy savings.