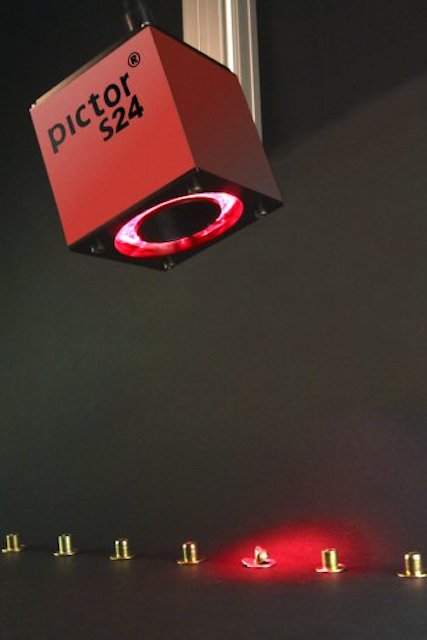 Date Announced: 23 Dec 2004
Good news for mechanical engineers and plant engineers, who would like to take the step from simple sensors up to Machine Vision. Vision Control introduces the new S24 family of vision sensors at the SPS/IPC/DRIVES.
Simple to use teach-in operation makes possible reliable input of all necessary parameters over the digital inputs, by which the sensors can be quickly and simply connected. The use of PLC levels allows problem free integration into automation equipment.
The new S24 series allows the inspection of up to 20 parts per second. This clearly demonstrates the superior capabilities of compact Machine Vision sensors, compared with simple optical sensors such as light barriers, as they are based on Machine Vision algorithms.
The sensors are accommodated in a compact, robust housing and comprise a DSP-based Machine Vision unit, a matched and pre-set lens as well as a fine-tuned LED ring light. With the choice of the following functions installed at the factory, the standard hardware can deal with the following tasks:
• Pattern matching sensor
• Measurement control sensor
• Position sensor
• Roundness sensor
• Angle sensor
Image acquisition is based on a CCD chip, which can resolve detail down to 0.05 mm, allowing the achievement of high precision. The full-frame shutter employed automatically adjusts to the ambient lighting. Various fields of view, as well as lighting from a range of colours, round off the
universal adaptation of the S24 to different conditions.
S24 Machine Vision sensors are controlled via a trigger input and an input for the program mode. Outputs for 'Part OK', 'Part not OK', as well as 'Ready', simplify integration into the automation equipment. Discreet results can be sent for further processing to the upstream control units via RS 232 or Ethernet interfaces.
The user is guided through the set-up of the Machine Vision sensor by use of LEDs, so that installation
is taken care of within a few minutes. One of the most well-known and universal operating interfaces for Machine Vision, the VCWin user interface looks after the simple commissioning and amendment of parameters.
The new S24 series Machine Vision sensors are an inexpensive, uncomplicated and rapid way of getting into Machine Vision for a large group of users who, up until now, have only used simple optical sensors.
Contact
Vision Control Pfuetschbergstr. 14 D-98527 Suhl / Germany Phone +49 3681 79 74 – 0 Fax +49 3681 79 74 – 44
E-mail:infopoint@vision-control.com
Web Site:http://www.vision-control.com