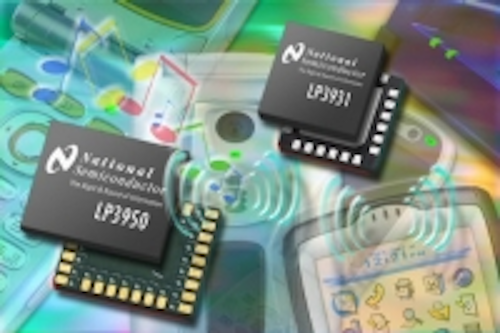 Date Announced: 12 Nov 2004
National Semiconductor Corporation today announced a new family of LED integrated circuit drivers specifically designed for sharper colors and superior brightness in lighting systems for portable handheld devices such as cell phones, smart phones, global positioning systems (GPS) and personal digital assistants (PDA).
National's new LED products are also suitable for portable games, toys, MP3 players and other devices. To accelerate system implementation, each LED driver in National's new product family offers easy design-in capability with minimal software programming.
"National Semiconductor has long been a leader in bringing exciting new functionality to market for makers of cell phones and other portable electronic devices," said Peter Henry, vice president for National's Portable Power Products Group. "Our new family of LED lighting drivers -- including the industry's first audio-lighting synchronized color LED driver -- will enable systems manufacturers to offer users more fun and functionality than ever before possible. These new products truly bring the sight and sound of information to portable devices."
LP3950 Color LED Driver with Audio Synchronizer
National's new LP3950 is the first chip on the market to offer an audio synchronization feature. With this feature, the color LEDs on the phone or MP3 player blink and change color in time with the device's music or ring tones. The LP3950 synchronizes the LEDs based on the music's amplitude or frequency response.
For manufacturers or consumers these modes together with several sub-modes and a color pattern generator give a freedom to differentiate and define unique color response to any type music played with phones. Two RGB LED outputs can drive up to 300 mA of output current for color LEDs or even for camera flash LED. An integrated boost converter powers the LEDs with high efficiency. The LP3950 is offered in 32-pin thin CSP package (5.5 mm by 4.5 mm); the price is $1.80 each in 1000-unit quantities.
LP3942 Color LED Driver with Charge Pump
National's new LP3942 is a color LED driver with a charge pump and an SPI interface. The driver has 16 colors with eight brightness values. Two separately programmed outputs can either drive one or more RGB LEDs in parallel. The product's charge pump features 1.5x and 2x modes for better color and brightness controls in different types of LEDs. A small 4mm by 4mm LLP(R) package and few external components enable a small solution size for any portable application. The LP3942 is available for $1.50 each in 1000-unit quantities.
LP3931 Color LED Driver with Magnetic Boost Converter
National's new LP3931 is a color LED driver with magnetic boost converter and SPI interface. This chip enables OEM customers to create systems that can control the color, keypad and camera flash with a single chip, while using the existing standard white LED drive for backlighting. The driver's RGB functionality is similar to that in National's LP3933 and LP3936.
Each output port can be controlled separately with programmable start and stop time, slope and brightness. The blinking cycle is also programmable. This high-current converter (up to 300 mA) ensures sufficient current for flash LED in camera phones. The LP3931 is available in a 4 mm by 4 mm LLP package; the price is $1.70 each in 1000-unit quantities.
A Commanding Lead in the Color LED Driver Market
With a 64 percent share of the global market, National Semiconductor is the world's leading supplier of lighting for color displays in cell phones, according to market research firms Display Search and IDC. According to year-end market data for 2003, approximately 520 million cell phones were sold worldwide.
As cell phones continue to evolve into smart phones, the need for LED drivers is expected to increase. For example, today's cell phones typically use two to four LEDs. Larger 3G phones will require up to eight LEDs to meet device lighting needs. National supplies a complete portfolio of lighting solutions to address these expanding requirements.
Contact
National Semiconductor Corporation Mike Brozda Tel. +1 408 721-3628
E-mail:mike.brozda@nsc.com
Web Site:http://www.national.com