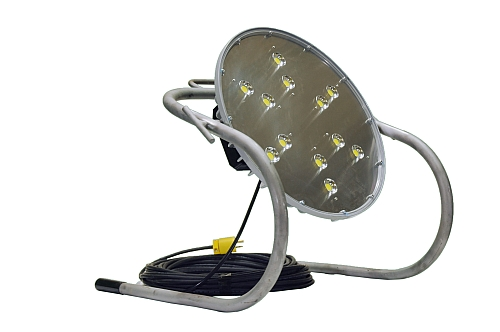 Kemp, Texas 75143 -- Longtime leader in commercial and industrial grade lighting equipment Larson Electronics has announced the release of a 200 watt portable LED work light mounted to an adjustable aluminum frame. This portable LED unit produces 21,000 lumens of light while drawing only 200 watts of power.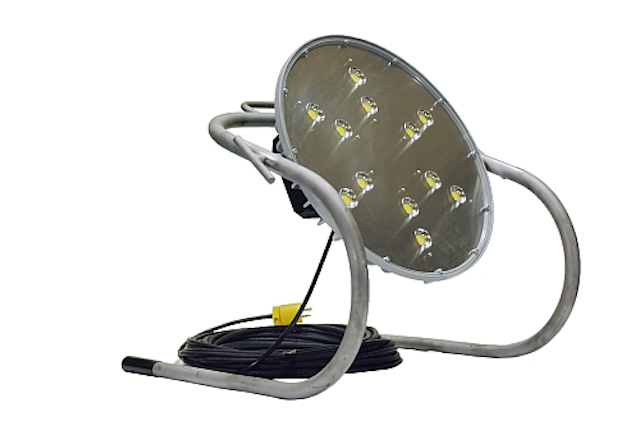 Larson Electronics develops 200W portable LED worklight on adjustable frame

The WAL-TFM-200W-LED-100 from Larson Electronics is a versatile LED work light that produces 21,000 lumens of light while drawing only 200 watts. This portable work light provides 9,500 square feet of work area coverage with 21,000 lumens of light output. The LED light head on this unit produces a brilliant flood pattern of light that is ideal for illuminating enclosed areas such as warehouses or construction sites where a portable, reliable light source is needed. As this light head only carries an IP65 rating, it is not recommended for use in wet or damp environments. The aluminum body and the LED luminaires give the unit excellent durability and resistance to vibration and impacts. The housing is specially designed to dissipate heat which increases the efficiency and lifespan of the luminaire. An acrylic lens protects the LED light assembly and the aluminum alloy body reduces weight compared to larger metal halide and high pressure sodium fixtures.

The portable LED work light is comprised of a 16 inch light head that is mounted on a tubular frame pedestal fabricated from lightweight aluminum with a convenient carrying handle built into the top of the frame. The lamp can be easily adjusted 360° for precise beam positioning and locked in to place by loosening two hand screws located on either side of the light head and retightening them once the desired angle is found. This unit is an excellent energy efficient upgrade option for bulky and high maintenance cost fixtures. Included with this light is 100' of SOOW cable terminated in an optional 5-15 straight blade plug, L5-15 twist lock plug, or an international schuko plug.

"We offer our new portable LED light with three different plug options to cater to the many power sources that are available," said Rob Bresnahan with Larsonelectronics.com. "The LEDs used in this light use less energy and create less heat which reduces energy costs by lowering the amount of electricity needed to illuminate and cool large areas."

Larson Electronics carries an extensive line of explosion proof lights, hazardous location lights, intrinsically safe lights, oil rig lights and explosion proof tank lights. You can view Larson Electronics' entire line of explosion proof lighting at larsonelectronics.com.

Contact:

Larson Electronics
+1-800-369-6671 or +1-214-616-6180

E-mail:

Web site: